Designed to rest on the top of your DM screen, these encounter cards feature gorgeous, all-new artwork on the front and DM info on the back. DM info includes exclusive "Beadle & Grimm's Tactical Tips" written by Keith Ammann, author of the blog The Monsters Know What They're Doing.
Contents: Ankheg, Basilisk, Bearded devil, Black dragon wyrmling, Brass dragon (young), Chasme, Chuul, Cultist, Ettin, Flesh golem, Gelatinous cube, Giant fire beetle, Gibbering mouther, Gnoll, Goblin, Green hag, Hill giant, Hobgoblin, Lizardfolk, Mage, Magma mephit, Manticore, Merrow, Mimic, Owlbear, Quasit, Swarm of rats, Troll, Umber hulk, Vampire spawn
Contents: Acolyte, Air elemental, Blink dog, Bugbear, Bulette, Cyclops, Displacer beast, Drider, Dryad, Fire elemental, Githyanki warrior, Helmed horror, Merfolk, Ogre, Ogre zombie, Orc war chief, Pegasus, Phase spider, Plesiosaurus, Revenant, Roper, Rug of smothering, Sahuagin, Sea hag, Warhorse skeleton, Werewolf, Wight, Worg, Wyvern, Zombie
Contents: Androsphinx, Archmage, Behir, Beholder, Black dragon (young), Chain devil, Death tyrant, Death knight, Djinni, Frost giant, Glabrezu, Green dragon (young), Gynosphinx, Hezrou, Ice devil, Kraken, Lich, Marilith, Nycaloth, Oni, Planetar, Purple worm, Rakshasa, Red dragon (adult), Red dragon (ancient), Silver dragon (young), Slaad (death), Solar, Stone golem, White dragon (ancient)
Contents: Aboleth, Balor, Black dragon (ancient), Blue dragon (adult), Blue dragon (young), Clay golem, Copper dragon (adult), Dao, Demilich, Dragon turtle, Drow priestess of Lolth, Empyrean, Erinyes, Githyanki knight, Goristro, Green dragon (adult), Hydra, Iron golem, Mind flayer, Mummy lord, Nalfeshnee, Pit fiend, Red dragon (young), Remorhaz, Roc, Slaad (grey), Spirit naga, Stone giant, Tarrasque, Ultroloth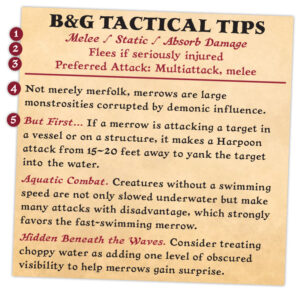 Features:
1. Combat Preferences — Many creatures prefer either melee or ranged combat, moving often or standing in place, and either absorbing or avoiding damage.
2. Flight Threshold — Whether a creature fights to the death or runs—and when.
3. Preferred Attack — Everyone has a go-to move.
4. The Basics — Their thing, in a nutshell.
5. Encounter Tips!
Pre-order with your Coqui Account Manager today!