Mission Control: Critical Orbit
Players: 2–4 • Ages: 12+ • Play time: 15–20 min.
In the year 1972, SAGA (The Space and Aeronautics Global Alliance) successfully completed the first ever hyperspace trip to Mars. But celebrations were cut short when the crew of the Mercury 3 rocket missed their reentry window and an explosion damaged the ship. Now, you must work together to bring the rocket and the crew home safely.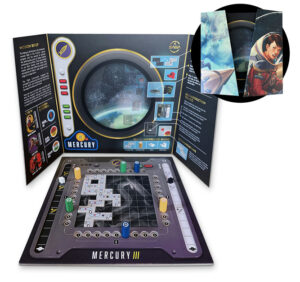 Mission Control: Critical Orbit is an asymmetric, cooperative, roll-and-write, real-time rescue adventure. One player takes on the role of the Aethernaut Flight Commander, and up to 3 players take on the roles of Flight Controllers. Each of the Controller players have unique tasks that earn tools the Aethernaut player needs to restore oxygen and critical systems to the damaged rocket. If the Aethernaut can build a path with polyominoes before the 20-minute timer runs out, you win! But if you run out time, the ship suffers a catastrophic failure causing the Mercury 3 rocket to explode in orbit…and everyone loses.
Shadowrun, Sixth World Core Rulebook: City Edition — Berlin
Shadowrun, Sixth World is the latest edition of one of the most popular role-playing games of all time. In 2080, the world is controlled by massive megacorps that draw on a wealth of technology and magic to keep the world under their heels. But there are some people who resist, who refuse to sell out, and who survive by living in the margins and developing the skills that make them indispensable. They are shadowrunners, and they're waiting for you to join their ranks. Be an elf shaman, an ork street samurai, a dwarf rigger, or any of thousands of other possibilities. Find your unique expertise and use it to take the wild chances that can keep you alive, that will give you that one last chance at freedom. So you can survive until the next one.
City Edition: Berlin contains the full, updated rules content of Shadowrun, Sixth World along with bonus pages of art, fiction, contacts, plot hooks, and other content to get players started in Berlin.
The highly anticiapted and sought-after Shadowrun: Scotophobia is on its way! Scotophobia establishes the main Shadowrun plotline for the next year. Building on the foundation of previous books such as Cutting Black, Slip Streams, Collapsing Now, The Third Parallel, and Astral Ways, it details a nefarious metaplanar plot that could cripple the Sixth World and what runners can do to stop it. With plot hooks, immersive text, and campaign ideas, this sets the stage for exciting, dramatic games for all Shadowrun players.
Key selling points:
Includes both in-universe text to help readers feel involved in the events and out-of-character text to help players use the game material.
Works with previous Shadowrun plot and campaign books while setting the stage for major evets to follow.
Provides dramatic cyberpunk-fantasy stories and ideas for anyone looking for compelling plotlines.
Shadowrun: Edge Zone, Deck Box (2 pack)
Two in one…package, that is. Get ready for twice the adventures. Only you know what lies ahead as you open each box to find hidden treasures. Whether they were placed there by you—or some secret friend or foe. Let the magic begin!
Studies in Sorcery: Divination
In Studies in Sorcery, players are students at the Academy of Dark Arts who are trying to finally finish their thesis statement and get their Master's Degree in the Dark Arts.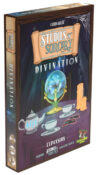 Studies in Sorcery: Divination
Publisher: Weird Giraffe Games
Item Code: GIR08001
MSRP: $12
Releases November 22, 2023
Studies in Sorcery: Divination is an expansion for Studies in Sorcery that adds in the Divination project cards. The school of Divination has several major themes:
Place watchful Fate tokens to prophesy your opponent's action and be rewarded for successful predictions.
Manipulate perception, placing extra credit tokens and turning demerits into a positive.
Increase knowledge of hidden information which you can use against your opponents.
Be rewarded for surrendering yourself to fate and pushing your luck.
Witcher Dice Sets: Crones & Leshen
Witcher Dice Set — Crones: Brewess, Crones: Weavess, Crones: Whispess, Leshen: The Master of Crows, Leshen: The Totem Builder, or Leshen: The Shapeshifter
Publisher: Q-Workshop
Item Code: QWSSWCR01, QWSSWCR02, QWSSWCR03, QWSSWLE01, QWSSWLE02, or QWSSWLE03
MSRP: $23
Releases November 22, 2023
Each set contains seven polyhedral dice and a metal coin: d4, d6, d8, d10, d00, d12, d20, and d2 represented as a metal coin.
Unmatched Adventures: Tales to Amaze
Players: 1–4 • Ages: 9+ • Play time: 20–60 min.
Unmatched Adventures: Tales to Amaze offers a whole new way to play the best-selling game of epic battles between unlikely heroes. Instead of battling each other, four all-new heroes—Nikola Tesla, Annie Christmas, the Golden Bat, and Dr. Jill Trent the Science Sleuth—band together to take down a villain and their minions, controlled by the game.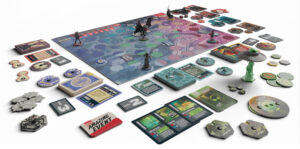 In the game, players work together to defeat one of two villains: Mothman or the Martian Invader. Each villain has a unique battlefield with unique objectives. If the villain completes their objective (or defeats the heroes), the players lose. The villains are aided by a number of possible minions: Jersey Devil, Ant Queen, Loveland Frog, The Blob, Tarantula, and Skunk Ape. The enemies use special action cards and a simple targeting scheme to control their movement and attacks.
Star Munchkin 3: Diplomatic Impunity
More sci-fi hijinks! After far too long, your favorite spacefaring munchkins are back! This expansion includes Ships your characters can use to explore the cosmos; a new Class, Ambassador, that can commandeer Ships from other players; and a new Race, Veggie, because even munchkins need fiber. Plus, there are plenty of new monsters, Traps, and Treasures. (Yes, of course there are more Lasers. PEW PEW!)
1916: A World Transformed. As the Great War raged, the Moon fell from its orbit. Seas shifted, uncovering new lands and revealing what tide and time had concealed. Long known as a potent occult power, the Moon's descent also heralded the terrifying resurgence of magic. Long-forgotten gods and spirits began to stir in hidden groves and caverns and old traditions found new strength. Soon, stone circles echoed once more with the chanting of ancient rituals and menhirs were again bedecked with wildflowers and presented with offerings of honey and blood.
1918: A War Transformed. Rival nations battle on new fronts, seeking dominance with weapons of spell, song, and sacrifice. Thrust to the surface, Doggerland, the ancient bridge between Britain and Europe, becomes a crucial battleground in the conflict. In this alien landscape, raiding parties pick through the ribs of wrecks and the ruins of lost villages, war machines festooned with totems and fetishes roll over the brittle bones of long-dead giants, and cavalry charge across plains made verdant by the vegetation returning to this new land with unnatural speed.
A War Transformed is a skirmish wargame set in a world where World War I was utterly changed by forces far beyond human comprehension. Players command small forces of infantry, cavalry, artillery, and other…stranger…troops on the Doggerland Front. Fast-paced gameplay and a tense initiative bidding system are combined with authentic folk traditions and occult philosophies of the era—it is a game of rifle and relic, of bayonet and belief, of machine gun and magic.
| | | |
| --- | --- | --- |
| Code | Description | MSRP |
| BEZSCRM | Scram! | $9.95 |
| LBM004 | Battle Mat: Giant Book of Battle Mats, Vol 2 | $46.99 |
| LBM016 | Battle Mat: Book of Battle Mats Towns & Taverns | $46.99 |
| LBM031 | Box of Adventure Coast of Dread | $35.00 |
| LBM036 | Battle Map: Big Book of Battle Mats, Revised | $26.99 |
| LBM037 | Battle Map: Giant Book of Battle Mats, Revised | $46.99 |
| QWSSKIT22 | RPG Starter Kit | $25.00 |
Pre-order with your Coqui Account Manager today!