Body Shop is the core augmentation book for Shadowrun, Sixth World, full of ways for shadowrunners to change their bodies and abilities so that they can maximize their abilities and do the impossible. Full of options for players and gamemasters, this book will be useful at any Shadowrun table.
BattleTech: Snord's Irregulars Assault Lance
Unleash the Snord's Irregulars Assault Lance! Included is the new Spartan and unique-to-the-Irregulars FrankenMech, a jumping Guillotine, and new variant of the Highlander—no assembly required—along with four MechWarrior pilot cards and four Alpha Strike cards. It's perfect for BattleTech and Alpha Strike action!
BattleTech: Proliferation Cycle Boxed Set
In 2439, the Terran Hegemony unleashed the Mackie—the first BattleMech—setting off an arms race across the Inner Sphere. The Proliferation Cycle anthology tells the story of how all six Houses employed force of arms, infiltrations, and espionage to field cutting-edge new 'Mechs of their own. The volume also includes the story of the first Clan OmniMech.
This companion ForcePack includes all seven original 'Mechs, which can be fielded on any game table using the rules from Interstellar Operations: Alternate Eras. No assembly is required. This box includes seven MechWarrior pilot cards and seven Alpha Strike cards. It's perfect for BattleTech and Alpha Strike action!
BattleTech: UrbanMech Lance Force Pack
Loved and hated in equal measure, over the last four decades, the UrbanMech has become the mascot of BattleTech. Recently, the UrbanMech has been turned into multiple plushies, appeared in a company box, and even a full-scale inflatable display!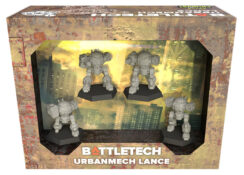 BattleTech: UrbanMech Lance Force Pack
Publisher: Catalyst Game Labs
Item Code: CAT35776
MSRP: $29.99
Releases June 28, 2023
This ForcePack brings a new pose of the original UM-R60 variant from the UrbanMech Salvage Box, along with three additional variants, including a brand-new ilClan Era design! No assembly is required. This box includes four MechWarrior pilot cards and four Alpha Strike cards. It's perfect for BattleTech and Alpha Strike action!
BattleTech: Warrior En Garde Premium Hardback
Betrayed by his own House and stripped of his rank, exiled MechWarrior Justin Allard is given one last chance to save his honor—by risking his life in the gladiatorial arenas of Solaris VII. But his newest Game World opponent—more skilled at 'Mech-to-'Mech combat than any other rival—raises the stakes even higher. It's Philip Capet, former star MechWarrior in the Davion military—until he was kicked out by none other than Justin Allard before his own unfortunate fall from grace.
Both Justin and Philip face fierce battles, but in the Inner Sphere, where nobles have schemed for centuries to win the ultimate power, those who interfere with the Successor Lords are sometimes called heroes—and sometimes called victims…
BattleTech: Warrior Riposte Premium Hardback
Hanse Davion and Melissa Steiner have united two Great Houses of the Inner Sphere in a marriage that upsets the balance of power among the stars. Though some hope this may bring an end to centuries of war, Maximilian Liao of the Capellan Confederation has enlisted the aid of two highly placed Davion traitors to destroy Hanse Davion and the Federated Suns from both within and without. But in the distant star chambers of the Capellan March and Draconis Combine, the warlords of Maximilian Liao are honoring a different and more deadly vow: to wage an unholy war that threatens to rip apart the vulnerable worlds of the Federated Suns.
As Davion 'Mech commander Andrew Redburn and his mercenaries streak into battle, an explosive clash of metal and men signals the return of a formidable foe. Interstellar legend Yorinaga Kurita has returned to stake his claim as the most bloodthirsty warrior of all. For both men, it is do-or-die combat that could ensure the triumph of a glorious new alliance—or result in total annihilation.
BattleTech: Warrior Coupé Premium Hardback
The minions of Maximilian Liao are about to deliver a crippling blow to the forces of Prince Hanse Davion—discovering a way to use Hanse's own technology against him. Half a galaxy away, assassins stalk Hanse's wife, Melissa Steiner, and her mother, Archon Katrina Steiner, in the passageways of their own palace. Invasion is imminent. The only 'Mech force capable of stopping that invasion—the Kell Hounds mercenary unit—is trapped in a game of search and destroy with the most fearsome Kurita unit ever created. Even if they come back in time…how many would make it?
In a world where ten-meter-tall war machines are the soul of battle, assassins are state policy, and a spy's loyalty is always for sale, the only thing certain is death. Who can you trust? And in the bitter end, how will you be betrayed?
Trial by Trolley: Vacation Expansion
This expansion includes 200 tracks and modifiers inspired by vacation destinations around the world and the petty frustrations we face every time we travel.
Players: 1–4 • Ages: 14+ • Play time: 30 min.
Your goal: Choose dice and then place the numbers into the matching colored area, put together tricky chain-scoring opportunities, and rack up the points. The dice you don't use are as important as what you do because every die that's smaller than the chosen one can be used by the other players, keeping everyone in the game at all times.
That's Pretty Clever! Kids
Players: 2–4 • Ages: 5+ • Play time: 15 min.
You want to get your hands on everything you can at the birthday party: balloons, gifts, candles, and mountains of sweets! Will you be able to grab more than all the other partygoers?
Auch schon clever (German for "Also Pretty Clever") features gameplay similar to Ganz schön clever, with one player rolling dice on their turn and then choosing what they want while everyone else gets something from what's left behind.
Players: 3–6 • Ages: 8+ • Play time: 30 min.
Greed is good! …And there's treasure to be won, so what are you waiting for? Players race to the bottom of the dungeon to grab The Hoard. Now all you have to do is get out with it…but everyone else is between you and the exit! Each player has their own deck of cards that control movement. Bluff, scheme, and strategize your way to the head of the pack…but some cards will change the rules when you least expect it!
This is a fast, unpredictable game, that's easy to learn and fun for all ages, with lots of quick replay value. And it's illustrated by Phil Foglio!
Evil witches are everywhere—souring your milk, corrupting your files, sailing across the moon with a cackling laugh. What can you do? What you always do: Kill them and take their stuff. Here are a dozen witchy monsters with Items and Curses to match!
This expansion works with any Munchkin set, but if you want witches to be a bit more central in your game, shuffle it into Munchkin Pathfinder and let the players be Witches, too!
Space Explorers: Age of Ambition
In the Age of Ambition expansion, you discover new frontiers of the Golden Era of Astronautics. Defend the interests of your Space Power. Enlist the support of influential politicians, powerful military leaders, and renowned scientists. Overcome crises and reach your strategic goals. Launch cutting-edge spacecraft and achieve breakthroughs in research. Manage it all using your own unique talents to carry out the most daring plans.
The glorious history of space exploration unfolds over the seven separate modules. You add them to the game in any combination, using up to three modules at a time. Each module perfectly fits the others and creates new gaming experiences. A solo rulebook is also included and is compatible with the new modules.
Frostgrave: The Wildwoods
For years, spellcasters have flocked to the Frozen City, braving the perils of its ruins in the hunt for relics and forgotten magic. While the city still holds many such secrets, newly arrived wizards must delve deeper and fight harder to make their mark. A few turn from the city, seeking instead the remote settlements that surrounded ancient Felstad. Such expeditions are not without their own dangers, however—in the vast forests of the Wildwoods, death lurks in the empty cookpot and torn waterskin, in the cold of night and the looming storm, and in the teeth and claws of the beast behind the next tree…
This supplement for Frostgrave: Fantasy Wargames in the Frozen City takes players beyond the ruins with rules for running expeditions in search of secret places and forgotten treasures in the dark Wildwoods. New soldiers and magic items may improve wizards' chances of survival, but dwindling supplies, the hostile environment, and terrifying new creatures will push them to their limits in a range of scenarios set in these deep, foreboding forests.
| | | |
| --- | --- | --- |
| Code | Description | MSRP |
| AWGAW03AS2 | Air, Land, & Sea | $17.99 |
| OSPOSG003 | Odin's Ravens | $26.00 |
| OSPGAM019 | Cryptid | $40.00 |
| Various | Harry Potter Dice | $24.00/$30.00 |
Pre-order with your Coqui Account Manager today!