Players: 2–4 • Ages: 14+ • Play time: 30–60 min.
Take on the role of a gardener, seeking to wield your green thumb to grow a well-balanced, mature garden before the growing season ends. You will sow seeds and grow a variety of plants to fill out your garden. In addition, if you meet the complex growing condition of your Flowers, you'll earn Prestige Points for your horticultural achievements. The player who earns the most prestige at the end of the game is crowned The Master Gardener.
2-Piece market board
6 Seedling starter tiles
72 Seedling tiles
4 Flower Pot tokens
4 Watering Can tokens
2 Resource wheelbarrows
4 Player markers
48 Plant tiles
54 Flower tiles
25 Sunlight tokens
25 Water tokens
Players: 1–6 • Ages: 8+ • Play time: 45 min.
Castle Panic is the best-selling, award-winning, cooperative, tower-defense game is back with a brand new look. Work together to play cards and slay advancing monsters while conditions on the field of battle change. Slay all 49 monsters and have at least one of your six towers standing to win. The new second edition includes all-new art, a custom die, and heavier cardstock. Changes to the board and cards improve readability for color-blind players. Learn more about Castle Panic 2E, the Big Box, and the Crowns and Quests expansion in our full Castle Panic 2E article.
Lost Ones Collectible Compass Rose
This collectible metal Compass Rose token was part of the Lost Ones Kickstarter. Its beautiful rendering from Kieran Russel helps players keep track of the direction they may wish to travel while exploring the Otherworld.
Ashes Reborn & Summoner Wars 2E Releases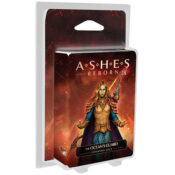 Ashes Reborn: The Ocean's Guard
Publisher: Plaid Hat Games
Item Code: PHG12235
MSRP: $14.95
Releases November 30, 2022
Players: 2–5 • Ages: 10+ • Play time: 5 min.
12 Christmasy dice make for one fast, fun game! You're picking dice to get the right numbers to buy the presents you need for Christmas…and keep your friends from getting what they want. Easy to learn and quick to play, this will be a holiday favorite for everyone!
Players: 3–6 • Ages: 14+ • Play time: 10 min.
There are some strange things in the gift exchange this year. A tuna-flavored candy cane? A wind-up fruitcake? An inflatable birdhouse? They may be horrible…but some of them are just what you want! Pick your favorites, and try to get them as fast as you can, because the game might end at any time. What do you want for Christmas?
Make history! Shake history! Fake history! And break history! Arm yourself with George Washington's False Teeth and Archimedes' Screw. Whack your foes with the Philosopher's Stone and a precious Ming Vase. And what foes! Cleopatra and her Pet Ro, Lucrezia Borgia, with Monkeys, and even Mrs. O'Leary's Cow, aided by Huns, Goths, and Vandals! Use of these cards will guarantee you fail History class, but a good time will be had by all!
Players: 2–5 • Ages: 14+ • Play time: 60 min.
It's a Reiner Knizia classic! In four rounds, players bid on chips representing genuine directors, actors, camera, effects, music, guest stars, and agents. These all get placed on players' film strips to complete the movie production. So one movie might need two actors, but no music or effects and so on. As films are completed, the points value is marked and another film-strip taken.
Players: 2 • Ages: 10+ • Play time: 20–30 min.
Every time you place a kitten on the bed, it goes boop—which is to say that it pushes every other kitten on the board one space away. Line up three kittens in a row to graduate them into cats…and then get three cats in a row to win! But that isn't easy with both you and your opponent constantly booping kittens around. It's like herding cats! Can you boop your cats into position to win? Or will you just get booped right off the bed?
Players: 2–5 • Ages: 8+ • Play time: 15 min.
"Hey! That bunny tried to bite me!" In Oh My Brain, you must get rid of all of your cards as quickly as possible to avoid having your brain munched on by a horde of zombie animals! Discard your cards to stay ahead of the horde, and roll the marshmallow die for bonus abilities!
Your actions could determine your destiny and the destiny of others. Be very careful how you proceed. The Shelter is a separate, stand-alone scenario for Mortum Medieval Detective. It is a game of deduction and adventures, which takes place in a grim world shaped in the image of medieval Europe, with its legends, superstitions, and fears coming to life.
Picture Perfect: The Sherlock Expansion
Someone has been murdered! And what makes it more shocking is that the murderer is among the mourners, photographers, Sherlock Holmes, and his team. But be careful not to reveal too much as you question the suspects. The stakes have never been so high—and the clues never more crucial.
BattleTech Alpha Strike Box Set
BattleTech is the world's greatest armored combat game. In Alpha Strike, you take command of large-scale engagements with tabletop gameplay designed for the modern miniature wargamer. The Alpha Strike Box Set includes everything you need to get started: thirteen high-quality miniatures, quick-start rules, cardstock terrain, game counters, cards to represent your MechWarrior's unique skills, dice, universe primer, and more.
Players: 2 • Ages: 14+ • Play time: 45–75 min.
Stalingrad, 1942. Before you awaits a grueling conflict in this cornerstone battleground. As the bullets and bombs tear the city asunder, only through wits and valor can you seize the cornerstone of the entire Eastern Front and change the course of history.
A heavy burden rests on your shoulders. Every casualty suffered in battle will weaken your forces for the entire campaign. Every bomb blast and mortar shell leaves the very ground for which you are fighting in further ruin. Every inch lost to the enemy brings you closer to the jaws of defeat. Over the course of up to fifteen branching scenarios, you will decide the fate of Stalingrad and, perhaps, the war itself. Even though the consequences of your actions will persist, the game itself can be fully reset and replayed, allowing you to explore every potential outcome.
Undaunted: Stalingrad is a monumental standalone game that expands the series' scope and challenge beyond anything that's come before. Featuring more than 300 unique illustrations by Roland MacDonald and 150 evocative mission briefings written by acclaimed author Robbie MacNiven, immerse yourself in this campaign at the heart of the war.
Inspired by real-life synchronized swimming, Sync or Swim focuses on teamwork, collaboration, and communication. Each round, teammates plan the perfect routine while taking direction from the team captain.
Pre-order with your Coqui Account Manager today!