Players: 2–6 • Ages: 14+ • Play time: 60–120 min.
Beast is a one-versus-many game in which one player takes the role of a Beast: a giant, godlike creautre who wants to fend off the humans invading her domains. All other players take the role of hunters, who cooperate in an epic hunt to track and kill the Beast. Which side will you join?
Players: 3–5 • Ages: 8+ • Play time: 20–30 min.
Good staff is hard to find, especially at a Monster Inn. As dungeon masters, you'll need to look around the local tavern for battle-hardened monsters for your dark dungeon. But the other dungeon masters in your neighborhood had the same idea, kicking off a fierce bidding competition for the best monsters! If you're not careful, not only will you get the weakest monsters, but you'll also get one of the nasty humans lurking around the tavern.
In Monster Inn, creature cards of varying value with monsters and humans are revealed in each round. Players want to hire the most powerful monsters and send the nasty little humans to their competitors. Each round, players will bid on the cards with gold coins or gems. But the humans are always auctioned off first, and those who can't or don't want to bid any longer take the current pool of treasures and the card that is currently being bid on. Who will be the cleverest and fill their own dungeon with powerful monsters that will defeat the humanoid intruders?
Deadly Dinner: Killing Woodstock
Players: 7–10 • Ages: 16+ • Play time: 180–240 min.
Deadly Dinner: Killing Woodstock is set in San Francisco, 1970. Ten people have one goal: reviving the legendary Woodstock Festival. A tranquil San Francisco commune, an up-and-coming rock band, and a tough motorcycle gang are united by their love of music, peace, and mind-expanding drugs. However, the festival turns into a death trip for the commune's spiritual leader. Once the guru was found murdered, peace, love, and happiness were over.
Deadly Dinner: Killing Woodstock is a classic murder mystery game. It is played over three rounds, during which the players receive new information about the sequence of events as well as secret objects that can be found in envelopes in the game box. The players have to discuss the information and clues they have available to identify the culprit in the end. A blueprint of the location and character standees allow them to keep track of who was where when the crime occurred.
Players: 2–6 • Ages: 8+ • Play time: 30–45 min.
It isn't easy being a zoo animal! The enclosures are far too small for their needs, the daily routine is boring, and the visitors are completely obnoxious, frequently throwing their trash into the enclosures. After an unfortunate incident, the zoo plans to transfer some of the animals to an even smaller partner park in only eight days. That's the last straw! The animals decide to make a run for it and want to break out of the zoo in the next seven days. But now the question rises how to go about it. Multiple ideas come to their minds, and all that trash finally becomes useful, if the animals can gather enough of it. Unfortunately, the zoo keepers clean the trash away every morning. And then there is the even bigger problem: How to make the other animals understand? The monkey screams excitedly, the elephant trumpets loudly. But what are they saying? Which items were they able to gather? Which escape plan holds the most promise? They have to find a way to communicate because it is time to leave the zoo!
In KuZOOka, players begin each round be receiving a new set of item cards which they may not show to one another. Instead, they try to let the others know which cards they have and which escape plan to use by cleverly placing their marker on the game board. It shows the colors of the different items as well as numbers going from low to high. On their turn, a player must either propose a new plan by moving their animal marker to a space farther along the way than the previous player, or end the current escape attempt. In the later case, all players reveal their items and if the color and number of items available match the current escape plan proposal, the attempt is successful. The animals gain experience from every attempt, giving them more cards in the following rounds. Only if they manage to gather enough items and communicate successfully, will they be able to leave the zoo for good. Every animal also has a special ability they can use once per day.
Spaceship Unity: Season 1.1
Players: 2–4 • Ages: 10+ • Play time: 60–120 min.
"Come to the Interplanetary Alliance," they said. "Do something worthwhile and support the IPA in keeping the Galactic Peace," they said. "Great adventures await!" they said… But if someone had told us beforehand that we would have to serve on the Unity and save the galaxy with this piece of junk, we might have decided differently…
Spaceship Unity takes gaming to a whole new level, transforming your home into the spaceship! As recruits of the IPA, i.e. the Interplanetary Alliance, the players experience an extraordinary story full of action and adventure and have to steer their own spaceship, where the exhaust fan turns into a jet engine, the blinds into a protective shield, or the bookshelf into a diplomatic database and much more!
In Spaceship Unity: Season 1.1, the focus is on the story. Like in a TV series, the story continues over several episodes (five in this case). Each of them is divided into multiple chapters with branching story paths for a different experience. There is no winning or losing. As in real life, the story keeps going no matter how the crew performs. However, that doesn't mean the mission is to be taken lightly! After all, the players are the last hope for Galactic Peace and the course of the story will change depending on the players' success or lack thereof, for better or for worse. Spaceship Unity will continue in 2023 with Season 1.2.
Bonfire: Trees & Creatures
In Bonfire, the players have learned a lot about the world of Asperia and its inhabitants. In this expansion, they will discover the Ancient Trees as well as Creatures with special abilities.
Bonfire: Trees & Creatures contains the three modules Ancient Trees, Creatures, and Events as well as game components for a fifth player and a sticker sheet for the resources. The modules can be added to the base game separately as well as in any combination and offer the players new possibilities. Bonfire: Trees & Creatures is an expansion. The base game Bonfire is required to play.
Players: 1–4 • Ages: 12+ • Play time: 75–150 min.
Fifty years ago, humanity started mining the Moon and the asteroid belt. For decades, this task was firmly held by the World Government and its contractors. Recent unrest collapsed this enterprise, leaving it open for those willing to take the risk. Now adventurous companies and private investors look to revive this mining network and claim the profit!
In Skymines, by Alexander Pfister and Viktor Kobilke, players are savvy investors seeking to earn the most CrypCoin through careful and strategic action. Invest mined resources in various corporations and spread outposts from base stations to increase their value and rake in the profit. Support the research of scientists to boost the earnings even further.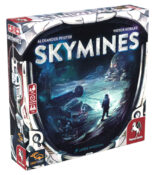 Skymines
Publisher: Pegasus Spiele
Item Code: PEG57807E
MSRP: $69.99
Releases October 2022
Skymines is a Euro game for experienced players. It features deep player interaction and a card-management system that requires clever planning. With four different companies, each with their own special abilities, players can choose how much to invest in each and where to diversify their holdings. Featuring a double-sided game board and variable components, each game will bring the opportunity to explore different synergies and strategies. Players can also experience an included campaign mode and two special modules.
Players: 1–4 • Ages: 8+ • Play time: 20–40 min.
Welcome to the North American wilderness! Breath-taking mountain vistas and spectacular geysers await you here. Vast forests and wide prairie offer home and safety to countless species of animal. Players run a national park and want to unite its animals in the largest families possible. Make sure that they find watering holes and that they completely fill many types of terrain. But beware, unpredictable weather can drive animals away, and the other players run their own parks and have a say in where certain species must go. Place your animals cleverly, carefully considering terrain and weather, and the best national park can be yours.
Caldera Park offers new challenges with great variety and easy rules. Fans of Savannah Park will rediscover some elements in the follow up, which have been interpreted in new ways, varied and complemented with new elements. Caldera Park is part of the Deep Print Games "In Nature" series and—like Renature and Savannah Park—entirely abstains from using plastic.
Players: 2–4 • Ages: 10+ • Play time: 45–60 min.
Travel back to Victorian London, where players are swindlers who are only too happy to relieve the rich moneybags of their jewelry, money, and house keys… They won't miss all that.
In Swindler, players draw loot tiles from various (money) bags. They either sell the loot directly to dealers or use it to fulfil lucrative orders to become a master thief. But be careful: Some of the finer snobs are more attentive than expected. One wrong move and all the beautiful loot is gone! Carefully steal the loot, use accomplices to hinder your fellow thieves, and become the master thief in this push-your-luck game!
MicroMacro: Crime City 3 — All In
Players: 1–4 • Ages: 12+ • Play time: 15–45 min.
Since the release of MicroMacro: Crime City in October 2020, around 2 million copies of the first and second part, MicroMacro: Crime City 2 — Full House, have been produced worldwide—in no fewer than 31 languages. The Spiel des Jahres 2021 (Game of the Year 2021) inspires experienced gamers and newcomers alike as it provides thrilling and innovative detective work in your own four walls.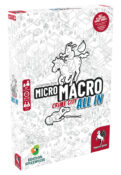 MicroMacro: Crime City 3 — All In
Publisher: Pegasus Spiele
Item Code: PEG59062E
MSRP: $34.99
Releases October 2022
With MicroMacro: Crime City 3 — All In, players can venture into the next district of the crime-ridden black and white metropolis Crime City. On a new, huge city map, which seamlessly connects to the previous maps, 16 tricky criminal cases are again waiting to be solved by one to four amateur detectives. These are brand new stories, more ingenious and devious than ever before! Players need to determine motives, find evidence, and convict the perpetrators. An attentive eye is just as important as creative deduction skills in order to unravel everything on the 75 × 110 cm game board. A magnifying glass is included in the game as a little help to find all the details, and the individual cases are again marked with symbols so that parents can decide which cases the youngest investigators are allowed to research and uncover. MicroMacro: Crime City 3 — All In is a standalone game; no previous knowledge from the other two MicroMacro games is required.
Pre-order with your Coqui Account Manager today!