Joining the Cardfight!! Vanguard series as a collaboration title, Shaman King enters the fray with a simultaneous release of its Trial Deck and Booster Pack! Emerge victorious with "Over Soul" in the world of Vanguard!!
It is the story, medium Yoh Asakura enters Shaman Fight, a battle tournament held every 500 years, competing with other shamans in a bid to become the all-powerful Shaman King. The all new TV Animation Shaman King is now available on Netflix! Sales of the manga series by Hiroyuki Takei exceeds 38 million volumes!
Each pack contains 7 random cards, and 3 will definitely be R or above! Each display contains 16 packs. The set contains 167 types of cards (20 RRR, 27 RR, 36 R, and 84 C) + 198 Parallels (6 SSR, 23 SP, and 169 SKR).
Each Sneak Preview Kit contains 47 Booster packs, 8+1 promotional cards, 8 PR Over Triggers, and 2 premium rubber playmats (1 design).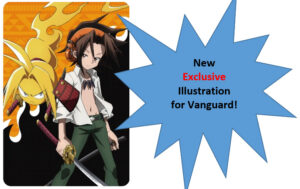 Each preconstructed Trial Deck contains 50 cards, and each display contains 6 decks. There are 16 types of cards (including 1 type of RRR holo card). There are 18 parallels (1 SSR, 1 SP, and 16 SKR). Each deck contains 2 Power Counters, a playsheet, and a First Guide. Each product includes 1 RRR card and 2 Parallel cards (either 2 SKR; 1 SKR and 1 SP; or 1 SKR and 1 SSR).
Pre-order with your Coqui Account Manager today!