Spike is a hero whose cool façade hides a dark and deadly past. Vash the Stampede's a joyful gunslinging pacifist, so why does he have a $6 million bounty on his head? This release represents a new product in the UniVersus line: Challenger Decks! Exploring new IPs, these decks are great for new and established players alike!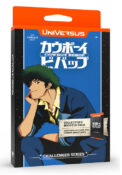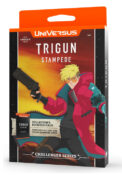 UniVersus CCG: Challenger Series Display — Cowboy Bebop & Trigun
Publisher: UniVersus Games
Item Code: JASUVSCHA01AD
MSRP: $279.92 (8 decks)
Releases January 19, 2024
This assorted display contains four of the Cowboy Bebop Challenger Series and four of the Trigun Stampede Challenger Series.
Each Challenger Series is an advanced, ready-to-play, 60-card deck that includes 2 all-new characters.
Each Challenger Series includes a collector booster pack, featuring 6 alternate-art foil cards.
2 Character options give you more ways to play each deck! Cowboy Bebop features Spike, Bounty Hunter and Faye, Queen of Hearts. Trigun features Vash the Stampede and Nicolas D. Wolfwood.
Pre-order with your Coqui Account Manager today!