Players: 2 • Play time: 15–60 min.
Welcome to the Roman Legions! Centurion is part of the Profile System game line, as originally presented in Catalyst's award-winning game The Duke. This new standalone set includes thirteen new tile designs and nineteen total tiles for each side, all with an old-world Roman army theme.
As in The Duke, players move their troop tiles around the board and flip them over after each move. Each tile's side shows a different movement profile. If you end your movement in a square occupied by an opponent's tile, you capture it. Capture your opponent's Centurion to win!
Centurion can be learned in moments, and it delivers game after game of tactical challenges. Each army is also balanced for asymmetrical play against an army from The Duke—or the Viking army from Jarl.
Warhammer Age of Sigmar: Soulbound — Blackened Earth
Strike out into the forge-hot streets of Greywater Fastness in this brand new campaign for Warhammer Age of Sigmar: Soulbound. Blackened Earth is a thrilling five-part campaign set within the free city of Greywater Fastness in Ghyran, the Realm of life. Here, the Soulbound are tasked with steering this vital city of Sigmar away from its path of destruction. With monsters gnawing at the gates, allies turning into enemies, and warmongers fighting for dominance in the city, the Soulbound must use everything at their disposal to save the doomed city from immolation in the fires of war.
This book contains:
An epic campaign told across five thrilling adventures. Walk the streets of one of Sigmar's most industrialized city and then strike out into the blasted wastelands and vibrant wilds of the Realm of Life.
A comprehensive guide to the city of Greywater Fastness. Discover its history and how it was founded, explore over 70 unique and strange locations, and learn about the major players in the city.
A beautifully illustrated map of Greywater Fastness!
New items to purchase in the city's black markets, and new Endeavors to undertake while in the city!
New terrifying monsters and allied NPCs for your Binding to encounter!
Warhammer 40,000 — Wrath & Glory, Threat Assessment: Xenos
Threat Assessment: Xenos is the first in a collection of bestiaries for Wrath & Glory, containing a wealth of new and exciting GM information and deadly enemies.
The book includes:
New rules for lethal battlezone hazards to surprise your Agents.
Profiles for the ancient Aeldari, including Asuryani, Harlequins, Corsairs, and Drukhari.
Enough rampaging Orks to start a WAAAGH!
The waking Necrons, including powerful units such as Crypteks and Flayed Ones.
A stranded T'au Strike Force of Fire Warriors, Drones, Crisis Suits, and more.
A full Kroot mercenary company, and their attendant beasts.
Insidious hybrids of the Genestealer Cults, paving the way for their true masters to descend from the stars.
Threat Assessment: Xenos is an essential purchase for the Wrath & Glory line, massively expanding a GM's arsenal of Threats with carefully crafted stat blocks for a host of factions.
Players: 1–4 • Ages: 14+ • Play time: 45–90 min.
Mercurial is a card- and dice-manipulation game themed on spellcrafting with combo and engine-building mechanics. Learn magical Alteration techniques to control the chaos of your elemental dice, and use these elements to combine lesser magicks into new and unknown spells. Your combined spells can either inflict ruin, restore life, or something more—use them to perform heroic deeds, ranging from helping your allies defeat dangerous beasts, to finding a path for stranded travelers lost in the strange land of Valanyr.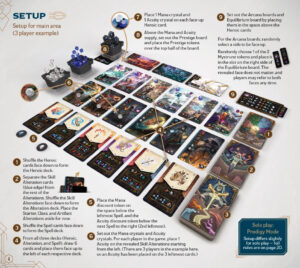 After an arduous journey through the otherworldly land of Valanyr, your caravan finally arrives at Camp Trinity—a young, thriving settlement built atop a ruined kingdom once decimated by an ancient cataclysm. Like many here, you were previously a mage of low renown now seeking a better fortune. The cataclysm altered Valanyr's Elan to be fertile but mercurial, rendering the rules of spellcasting different from whence you came. Here, the usually separate elements of nature fuse readily, allowing for new and unknown spells to be created. You'll have to start from scratch, but unknown means new discoveries to be made, and a thriving settlement means opportunity…
In Mercurial, each player has varying capabilities and starting resources, with their differences offering a unique path to power with every journey. Delve into the fantastic world of Mercurial, and discover a new age of spellcrafting.
You are one of the Devil's Dandy Dogs, a creature made of the Devil's shadow, and as such, you are tasked with one thing: collecting souls. You'll face myriad people, places, creatures, experiences, and conundrums—not to mention temptations. And when you're done, the Devil will want a rousing story of your exploits.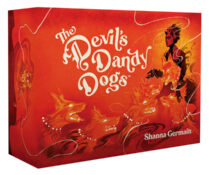 The Devil's Dandy Dogs
Publisher: Monte Cook Games
Item Code: MCG312
MSRP: $39.99
Releases November 15, 2023
This item cannot be sold to third-party Amazon sellers.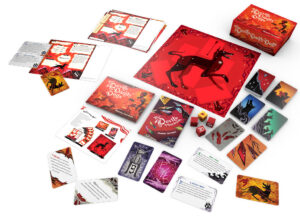 Collaborate with the rest of your pack and the Diviner to create the conflict, characters, and resolutions to your tale. Special dice and a tarot-style deck generate interesting twists and turns. This no-prep, rules-light narrative roleplaying game is filled with mystery, magic, and the unforeseen…and a pack of supernatural dogs trying their best to be oh-so-good.
Roleplaying games give us a chance to explore, discover, imagine, create, and face challenges. Games shine brightest when they're vivid, unique, and a little bit mind-bending.
So how do you make another room full of orcs, another space station full of aliens, or another dark cult really special? How do you make every game session truly new and memorable—a moment of real discovery and imagination? You make it weird.
Players: 1–4 • Ages: 14+ • Play time: 30–60 min.
It's summertime, and amid the forest lies the glade. In The Glade, you fill your personal forest board with sets of wooden forest tiles that feature creatures, leaves, and forest fruits. Create sets of three tiles to place one of your toadstool counters onto the central glade board. Complete a set of four tiles to add a toadstool to your store. Claim toadstool counters from the glade for your store by playing matching forest tiles. Play toadstool counters into enclosures in your forest to create extra actions. When one player has played all twelve of their toadstool counters or when all the forest tiles have been drawn from the bag, the player with the most points wins. After playing the basic game, progress to the "matching" game in which you also match your forest tiles to the creatures, leaves, or forest fruits on your forest board.
An absorbing tile-laying game you'll want to play again and again.
Create sets of 1 to 4 tiles, and place these on your own player board. Link the sets to create enclosures and more scoring opportunities.
Two versions including the matching game, where you match your forest tiles to icons on your player board for extra points.
Wooden forest tiles include creatures, forest fruit, and leaves which must be all different or all the same. A wooden toadstool tile identifies your player color.
Similar rules for the multiplayer and solo versions. Try to neat your highest score in as few turns as  possible. The game ends when one player plays all their toadstool tiles.
Players: 3–6 • Ages: 14+ • Play time: 1–2 hours
Behold the city of Korvosa, the gateway to fabled Varisia. Those with the most guile, cunning, and simple brute force control the city. Welcome to Pathfinder Revolution!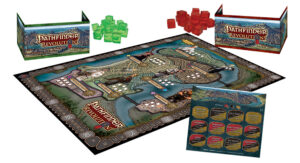 Secretly bid against your opponents for control of important people and guilds, gaining influence in different regions throughout the city, as well as more gold, power, or blackmail for your war chest. Gold can sway the Guildmaster, and blackmail may turn the Hellknight to your side, but sometimes the only answer to a problem is force. Can you use the tools of gutter statecraft, bluff or outguess your opponents, and build a coalition to control the city? Pathfinder Revolution is a game of bidding and intrigue for three to six players.
Munchkin Pathfinder: Gobsmacked
After they finished Munchkin Pathfinder, they found another hob of goblins hiding under the desk…so they made a mini-expansion out of 'em. Fight off the Goblin Babies, Cog Goblin, and Goblin Hood with the Gobliterator!  Just don't get Gobsmacked!
Munchkin Pathfinder: Truly Gobnoxious
Is your goblin horde more of a goblin clique? Not for long! Swell your goblin ranks with Munchkin Pathfinder: Truly Gobnoxious, a mini-expansion for Munchkin that overruns your game with this classic fantasy enemy.
Truly Gobnoxious contains 10 new monster cards and five goblin-related treasures with all-new Shane White (Munchkin Pathfinder Guest Artist Edition) illustrations! This is an expansion for Munchkin Pathfinder. It is not a standalone game. This is not a collectible or randomized set. Every Munchkin Pathfinder: Truly Gobnoxious pack is the same as every other.
Munchkin Warhammer 40,000: Storming the Warp
Anyone who has explored the galaxy of Warhammer 40,000 will know that it holds a vast variety of planets. Some of these worlds appear in dozens of stories, such as Holy Terra, the capital of the Imperium of Mankind—others only get a passing mention as they are devoured by a Tyranid hive fleet.
This Dungeons expansion for Munchkin Warhammer 40,000 brings 20 of these worlds to your table to add more Chaos (and fun) to your grim, dark games.
| | | |
| --- | --- | --- |
| Code | Description | MSRP |
| AWGDTE02ONX1 | Onitama Sensei's Path | $12.99 |
| OSPGAM056 | General Orders: World War II | $35.00 |
| IBCAVABB1 | Avalon, Big Box Edition | $39.99 |
| IBCQUE1 | Quest | $19.99 |
| ONKSCT | Scout | $23.00 |
| PEX2002 | Long Shot, The Dice Game | $29.99 |
| ROX402 | Brass: Birmingham | $79.99 |
| SBS101006 | Birds of a Feather: Western North America | $25.00 |
Pre-order with your Coqui Account Manager today!