Players: 2–4 • Ages: 6+ • Play time: 30–60 min.
Monsieur de Montforte no longer lives in his Chateau. When he vacated the premises, the highly acclaimed gourmet left behind a collection of the finest cheeses in the world. As the years passed, the cheese aged, but so did the Chateau. Now the mice that search the Chateau for the cheese treasures must be careful or fall into holes which have opened in the floors as the building aged, making the Chateau one of the largest mouse traps under the starlit sky. Welcome to the craziest Chateau in the gaming world!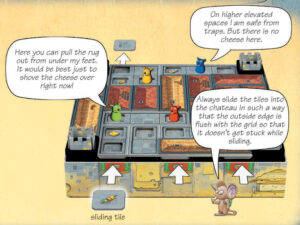 The three-dimensional adventure takes place on four levels. At the top, the Chateau's roof blocks the view of the inside. When a player peeks under the roof, he can see the lattice of walls and rooms and send his mice in search of treasure cheese! However, once there, the mice must tread carefully as the floors slide unexpectedly under their paws and can reveal a deadly trap. For those who can avoid the traps, delicious cheese treasures await. Not only can children shine in Chateau Roquefort with their unbeatable memories, but they improve also their abilities to anticipate what lies ahead! Adults will also find the game an exciting challenge, again and again! it And the game comes with a two-sided board for two different scenarios!
Players: 3–5 • Ages: 12+ • Play time: 90–120 min.
The growth of railroads in Germany was explosive. Everyone wanted them and wanted them now. The Kaiser, Industry, Merchants, Moguls, and Mayors got the wheels of German engineering cranked up fast. Money flooded in from all quarters and the race was on to build the finest railroads in the world immediately. Vast wealth and prosperity await those who wisely invest in the most lucrative ventures. Deutschland Uber Alles!
Players invest in railroads and build them across all of Germany in 1830s, carefully balancing competition with cooperation to achieve the optimal returns on their investments. With an innovative turn order mechanism, players vie for dominance in this crusade to make Germany the world's railway super power.
Freaky Frogs from Outaspace
Players: 1 • Ages: 12+ • Play time: 25–50 min.
Finally you have time again for a pinball session. Let's see how long you can keep the ball running on your favorite old pinball machine this time. If everything runs perfectly, you will start the nerve-wracking Multiball, or you gain an Extra Ball to play an additional round.
Can you achieve a new High Score, or do you lose the balls faster than you are able to push the flippers?
| | | |
| --- | --- | --- |
| Code | Description | MSRP |
| RGG644 | Balkan Railways | $39.95 |
| RGG640 | 1930 | $59.95 |
| RGG652 | Faiyum: Privileges | $19.95 |
| RGG653 | Black Friday | $49.95 |
| RGG648 | Holly Oak | $19.95 |
| RGG656 | FTW?! | $14.95 |
Pre-order with your Coqui Account Manager today!