Players: 1–5 • Ages: 14+ • Play time: 50–70 min.
It's your duty choose wisely what constructions and wonderful monuments fits better in your map. This will increase your resource production and attract many people, which will make your population grow. But look carefully at your opponent's plans—perhaps they are wanting the same builds you are.
In the end, the one who has more victory rings will be declared the winner and the builder of the biggest city of the Antiquity!
Castles of Mad King Ludwig 2E
Players: 1–4 • Ages: 13+ • Play time: 90 min.
King Ludwig II of Bavaria is known for building over-the-top castles. Throughout his reign, he spent all of his personal fortune and a great deal of borrowed money in order to turn his wild and lavish dreams into reality. He was eventually declared insane, only to die a mysterious death the following day.
Castles of Mad King Ludwig is a tile-laying game in which each player is trying to build the perfect castle, subject to the whims of the King. Each player acts as a building contractor, adding rooms to the castle they are building while selling their services to other players. Points are earned based on how well the castle adheres to the ever-changing demands of the King. The player with the most points at the end of the game wins!
This second edition features upgraded art, a beautiful new scoreboard, swan player markers, GameTrayz™ organizers, and more!
Warhammer 40k: Imperium Maledictum Core Rulebook, Collector's Edition
Housed in a magnetically sealed box adorned with breathtaking artwork, the Imperium Maledictum: Collector's Edition is the ultimate choice for discerning adventurers who desire to embark on their grim and treacherous journey with unparalleled elegance and flair. Don't miss your chance to own this extraordinary piece of roleplaying history—secure your copy now!
Imperium Maledictum is a new Warhammer 40,000 roleplaying game set in the glorious Macharian Sector, a sector forged in blood and fire from the thousand worlds conquered by Lord Solar Macharius. It is a sector rife with peril and treachery.
Imperium Maledictum uses a familiar but refined d100 system to draw players into tales of intrigue, betrayal, and conspiracy. Players take on the role of Imperial adepts and citizens recruited by a powerful Patron. These influential figures use teams outside the usual chain of command to undertake grim and perilous missions, furthering their often inscrutable interests. To succeed, players must weave their way through the complicated web of competing factions that make up the Imperium. They must navigate a realm where a whispered accusation can be as deadly as any bolter, plumbing the depths of the most lethal hives and navigating the often far more insidious threats that grace the courts of the highborn. Do you have what it takes to survive the grim and treacherous adventures in the 41st Millennium?
Sherlock Files: Sinister Secrets
Players: 1–8 • Ages: 14+ • Play time: 60 min.
Sherlock Files: Sinister Secrets includes three new confounding cases for you to solve. Track down a priceless diamond necklace that vanished after a glamorous Hollywood party. Unravel the sordid tale of a man who was murdered before the eyes of his own mother. Investigate the supernatural secrets of a haunted hotel room that kills anyone who tries to stay in it!
Decipher clues to determine which are relevant to the case and which are not. Share what you deem relevant with your detective partners. Which theories will you chase? How will you fare compared to the world's greatest detective? Work together to solve each case and find out!
Players: 2–4 • Ages: 6+ • Play time: 30 min.
Something delicious is cooking up in the kitchen, and as a talented chef, it's up to you to carefully carve up the right ingredients and turn them into culinary masterpieces. Prepare a wide variety of recipes from around the world, and hype them up to earn extra praise.
In Diced Veggies, a clever cleaver is all you need to whip up delicious recipes in this dice-slicing game for up to four chefs!
Adventure Tactics: Adventures in Alchemy
Journey along a new path to the treacherous Tower of Greylock in the Adventure Tactics: Adventures in Alchemy expansion! Leading the way is the new hero, Laine the Alchemist. This expansion also introduces a brand new mini-campaign that leads you through a new path to the gates of the Tower. This campaign will see you through the first five levels of your heroic journey and, when completed, you can continue your adventure by diving directly into Act II of Domianne's Tower. With the addition of new enemies, new Elite Classes, a new type of Initiative, and non-player-controlled Allies, your journey to the Tower will never be the same!
This game requires Adventure Tactics: Domianne's Tower to play. You can incorporate all the content from Hero Pack 1 as well.
Ashes Reborn: Red Rains — Frostwild Scourge
Four brave Phoenixborn, the masters of natural magic, have answered the call to journey to the frigid wastelands beyond Frostdale, the great icy city in the north. Join Rin, Lulu, Aradel, and Koji as they fight to defeat the titanic chimera known as the Frostwild Scourge.
This new chimera will challenge players in fresh ways through the use of two conjured alteration spells it can put into play. Tremble before its might as it enrages and strengthens its aspects with imbued Vigor, all while fighting off the elements that will Stun your characters from acting and deplete your sources of magic. Endure harsh winter storms and combat the strength of this mighty giant in The Frostwild Scourge!
How many cats can you adopt? Every cat finds a home…
We Love Cats contains a cloth bag, 30 cat tokens, and two special dice. This game is for two to five players and takes just a few minutes. (Then play again and adopt some more cats!)
Players: 2 • Ages: 14+ • Play time: 20–45 min.
The Hunt is an asymmetric duel in which one player assumes the leadership of the British Royal Navy, while the other player represents the German Kriegsmarine. Each player has their own deck of cards. In order for the German side to win, it must stay hidden from the British while sinking five cargo ships. The British player must hunt down and fight the Admiral Graf Spee in a final naval battle, in which case the side that ends up with less damage wins.
Players: 1–4 • Ages: 10+ • Play time: 30–45 min.
In the game Leaf, players embody the wind by guiding leaves to the forest floor and connecting them to the ones that have already fallen. Each leaf you touch will grant you actions to create a thriving forest. Attract woodland animals, grow mushrooms, lead helpful squirrels up the great tree, and gain additional leaf cards and sun tokens by strategically placing leaves. The player who contributes most to the health of the forest wins!
General Orders: World War II
Players: 2 • Ages: 14+ • Play time: 30 min.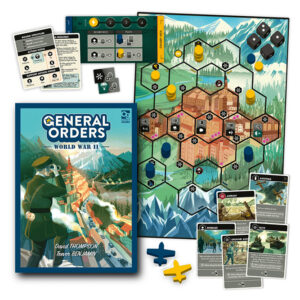 General Orders: World War II pits competing commanders against each other in a tug of war for control over a crucial Second World War battlefield, either in the mountains of Italy or the islands of the Pacific. Players strive to seize crucial strategic assets that unlock special abilities and prevent their opponents doing the same. Balance the desire to gain these advantages with the need to secure supply lines, ward off aerial assault and artillery barrages, and protect your vulnerable headquarters, in this compact and elegant two-player game.
From critically acclaimed design duo David Thompson and Trevor Benjamin, General Orders: WWII combines the dynamic tactical gameplay of a traditional wargame with the cut-throat decision-making of worker-placement games.
| | | |
| --- | --- | --- |
| Code | Description | MSRP |
| BEZCASX | Castles of Mad King Ludwig Expansions 2E | $49.95 |
| CB72700 | Warhammer 40k Imperium Maledictum RPG: Core Rulebook | $59.99 |
| CB72702 | Warhammer 40k Imperium Maledictum RPG: GM's Screen | $29.99 |
| IBCSFJRII1 | Sherlock Files: Junior Introductory Investigations | $24.99 |
| LTM034 | Adventure Tactics: Enemy Pack 1 | $85.00 |
| LTM032 | Adventure Tactics: Adventures in Alchemy- Enemy Pack | $20.00 |
| SJG1136 | Caligula | $19.95 |
| SJG1453 | Munchkin Cthulhu 2: Call of Cowthulu | $11.95 |
| WCG25 | Leaf: Season of the Bear Expansion | $15.00 |
| OSPBOLT40 | Bolt Action: Campaign- Italy, Tough Gut | $35.00 |
| | | |
| --- | --- | --- |
| Code | Description | MSRP |
| ACG025 | Tinderblox | $12.99 |
| IBCSFCC001 | Sherlock Files: Vol 2 Curious Capers | $24.99 |
| IBCSFDD01 | Sherlock Files: Vol 6 Devilish Details | $24.99 |
| IBCSFEE01 | Sherlock Files: Elementary Entries | $24.99 |
| IBCSFF01 | Sherlock Files: Vol 4 Fatal Frontiers | $24.99 |
| IBCSFMM01 | Sherlock Files: Vol 5 Marvelous Mysteries | $24.99 |
| IBCSFPP01 | Sherlock Files: Puzzling Plots | $24.99 |
| ROX602 | Dice Throne: Season Two Box 1- Gunslinger v. Samurai | $29.99 |
| ROX636 | Dice Throne: Season One Box 1- Barbarian vs Moon Elf | $29.99 |
| ROX638 | Dice Throne: Season One Box 3- Pyromancer vs Shadow Thief | $29.99 |
| SJG131333 | Chupacabra: Survive the Night | $19.95 |
| SJG4218 | Munchkin Tricky Treats | $10.95 |
Pre-order with your Coqui Account Manager today!