Players: 1–4 • Ages: 14+ • Play time: 30–60 min.
Tiny Epic Crimes is a fast-paced, crime-fighting, deduction game that offers multiple ways to play. The game can be enjoyed competitively, cooperatively, or solo. Players take on the role of detectives, and depending on the game mode, they will be working either together—or separately—to crack the murder case. Time matters, and the first 48 hours after any crime are the most critical. Players race around Echo Ridge City collecting evidence, such as the murder weapon, forensics, or the getaway vehicle.
This secret evidence is sifted through using the novel Tiny Epic Decoder System, which keeps all of the murderer's other evidence hidden. This knowledge eliminates suspects and helps identify the true killer. But crime doesn't stop for one investigation. Players must answer the call of duty, juggling their time as other criminal activities arise across the city.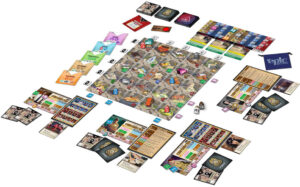 Resolving these events allow players to gain useful alibis and powerful Force Cards—but knowing full well that their actions will take them hours closer to a reckoning. In their final hour, players will stake their careers on a final guess—who they think the murderer really is—hoping that their wits and detective skills are enough to bring the correct suspect to justice.
Can you hold this city of crime together long enough to crack the case, or will it go cold and your time on the force run out?
Criminals in the city feast in the streets, preying on the innocent citizens of Echo Ridge. But these petty gangs only squabble for the table scraps left over by the Kingpin. This despot looms large over the city's underbelly, pulling all of its strings, and threatening Echo Ridge's very foundation.
You are willing to stake your badge that it was the Kingpin who ordered Muretti's hit. Time to call in the Patrol Squad, an elite task force trained to bust up the Kingpin's Flophouse network. With your help, we can smoke these bandits out, discover who the real Kingpin is, and topple them.
Pre-order with your Coqui Account Manager today!