Players: 2 • Ages: 8+ • Play time: 15–25 min.
In this new dueling card game from Richard Garfield, summon hybrid creatures and send them to battle against your opponent—but be careful, for your opponent may use one of their Mindbugs to take control of it.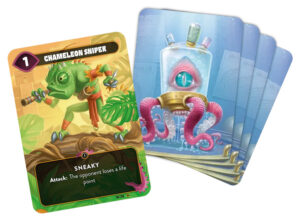 Mindbug is an easy-to-learn card game in which players try to outwit their opponents in a tactical duel where having and playing the best card at the wrong time can be deadly…to yourself. Mindbug was co-designed by Richard Garfield (of Magic: The Gathering, Netrunner, and King of Tokyo fame). The First Contact set is the first in a line of standalone Mindbug products that expand the card pool of this fun, colorful, and fast game.
New monstrous (and often hilarious) minions await your bidding (or the manipulations of a Mindbug) with the First Contact: New Servants expansion. No fewer than twenty-four additional creatures await in this fun expansion, fully compatible with any Mindbug set. Let the madness expand!
Pre-order with your Coqui Account Manager today!