Players: 1–5 • Ages: 10+ • Play time: 60–90 min.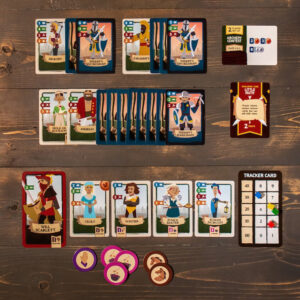 Rescuing Robin Hood is a collaborative deck-building game. Robin Hood has been captured! As the leaders of the Merry Band, you have only five days to come to his rescue, using all the Wit, Brawn, and Stealth you can muster. Each turn, you work together to rescue villagers captured by the Sheriff of Nottingham's men. As more people are rescued, new villagers join your side. Once you have built up your Merry Band, you select your dream team, storm the castle, and fight one final battle to rescue Robin Hood!
Players: 2–6 • Ages: 8+ • Play time: 10–15 min.
Guns or Treasure is a speedy game of buccaneering and bluffing! It has a beautiful shipbuilding aesthetic, excellent replayability and a wide demographic appeal. Throw it in a purse to entertain your kids or carry it in your pocket to add some rowdy fun to pub time with the guys.
Each player secretly builds their ships by laying down 10 cards. Cards add guns, treasure, or a bomb to your ships. The players then take turns marauding other players' ships or retreating to safety. Marauding is the key to victory, since a successful attack means you score the treasure from both ships, but beware! Their ships may be well-equipped with guns or rigged with a bomb! The player with the most treasure wins.
The Parrots and Monkeys expansion allows you to play up to nine players and adds new ship cards and captains! Captains: Mme Liza Perruche, Bruno Barqueiro, and Charlie Hightower.
Pre-order with your Coqui Account Manager today!