Kong: Skull Island Cinematic Adventure
Welcome to Skull Island, the domain of the mighty Kong and a land of unparalleled danger, adventure, and discovery. You are among the first to step foot on its shores, to explore its untamed wilds, to face the monstrous beasts more dangerous than anything previously known to mankind. Will you unravel one of its great mysteries, or will you end up as a snack for a slavering monster?
Kong: Skull Island gives you a wealth of new options for creating heroes in the Everyday Heroes game system. Prepare for the many perils that await with two new classes and new backgrounds, professions, feats, and equipment. Here, too, are creatures able to test the mettle of even the most talented heroes. New combat rules for massive destruction and mayhem—as well as titanic-scale rules—simulate creatures as tall as skyscrapers.
The new adventure "Sliver of the Skull" provides the perfect introduction to Skull Island adventures. Players must unravel a plot that poses a serious threat to the Skull Island ecosystem and save the island from ecological disaster with the help of mighty Kong.
The book features a new class (the Monster Hunter), new professions (Mercenary Soldier), new monsters (Titans and Superspecies), and a Kong: Skull Island Adventure: "Sliver of the Skull."
This is a TTRPG Cinematic Adventure that's 5e compatible, officially licensed, and set in the world of Kong: Skull Island. Kong: Skull Island is a Cinematic Adventure for use with the Everyday Heroes roleplaying game. You need the Everyday Heroes Core Rulebook to understand and play the contents of this book.
Pacific Rim Cinematic Adventure
The battle for humanity's survival rages on. Skyscraper-sized monsters called Kaiju continue to invade our world from another dimension. Their only goal is the total annihilation of the human race. Only you and your fellow Rangers can fight the Kaiju, matching their size and strength with titanic robots called Jaegers–machines so powerful that they require the mental fortitude of two pilots to operate.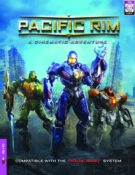 Pacific Rim Cinematic Adventure
Publisher: Evil Genius Gaming
Item Code: EVL04000
MSRP: $24.99
Releases June 16, 2023
But the Kaiju threat continues to grow. Only through innovation can we fight against the ever-growing storm. A new Jaeger technology codenamed Catalyst promises to be the edge we need, but it has not yet been tested in the field. As some of the Pan Pacific Defense Corps' top Rangers, you have been chosen to carry out the first test in live combat. Are you ready to hop in your Jaeger, enter the drift, and cancel the apocalypse together?
This book features a new class (Bonded Twins), a new profession (Jaeger Pilot), complete rules for creating new Jaeger mechs, and a 60-page adventure set in the world of Pacific Rim.
Players: 1–5 • Ages: 7+ • Play time: 40 min.
Illiterati is a cooperative survival word game. You and your fellow Librarians must work together to save the world from illiteracy by spelling words and binding books, all while surviving the onslaught of the Illiterati. Illiterati is played simultaneously in real time with all players working together.
Each round is composed of 3 phases:
Word Building Phase — Draw letters and spell words.
Book Binding Phase — Burn unused letters and turn in any completed books.
Illiterati Attack Phase — Draw an Illiterati Villain and resolve its effects.
To win, each players must first bind their own books. Then, all players must coordinate their efforts by tackling one epic book together called the Final Chapter. All players lose if too many letters are burned or the Illiterati Villain Deck is emptied.
The usual excitement of the Blackmoon celebration is amplified by the appearance of a solar eclipse, bringing a larger than usual host of lunar hermits, fanatics, and witches eager to sell forecasts, issue omens, or cast harvest futures. The eager participants relish these sacred days when the world of the dead is said to draw closest to the living and whisper messages from the grave.
This 20-page level 5 adventure is created for Dungeon Crawl Classics with a strong old-school roleplaying focus. It can be easily adapted to any RPG system. Among other elements, what makes Cathedral of the Undying stand out as a unique adventure is that PCs will not initially die when killed. A strange necrotic curse brings them back to life—but also a step closer towards becoming a mindless undead! PCs imagining this is a form of invulnerability may soon discover they have permanently joined the creatures of the night.
Pre-order with your Coqui Account Manager today!