BattleTech: PlushyTech – UrbanMech (Liao)
The first in a new line of BattleTech SWAG, this cute lil' Urbie sports a Death Commando paint scheme. This adorable plushy contains no hard pieces and is constructed with strong-sewn seams. It can withstand a beating about as well as a real Urbie could. Hmm…maybe better!
BattleTech: PlushyTech – Archer (Kell Hounds)
What's 17″ tall, soft, and dangerous? Obviously, it's this Archer plushy! This adorable plushy contains no hard pieces and is constructed with strong-sewn seams. It can withstand a beating about as well as a real Archer could.
BattleTech: PlushyTech – Archer (Wolf's Dragoons)
What's 12″ tall, soft, and dangerous? Obviously, it's this Archer plushy! This adorable plushy contains no hard pieces and is constructed with strong-sewn seams. It can withstand a beating about as well as a real Archer could.
Space Puzzles – Starlight Station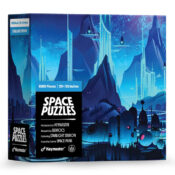 Space Puzzles – Starlight Station
Publisher: Keymaster Games
Item Code: KYM03PZ01
MSRP: $25
Releases May 31, 2023
Blast off to outer space and discover the endless detail far-off worlds have to offer. Featuring iconic artwork by Orlin Culture Shop from the Keymaster classic, Space Park, the Starlight Station puzzle is perfect for the Space Park fan, or anyone who wants to enjoy the galaxy! These premium, one-thousand-piece, die-cut puzzles are made from Forest Sustainability Council Certified materials, including environmentally friendly soy-based inks.
Celebrate the majesty of our nation's most beautiful landscapes with the all new Parks Puzzles. Reminisce on your favorite national park adventures or game night memories all in one place as you piece together striking scenes from the Parks series. There's a Parks puzzle for everyone.
Cat Puzzles – Catalina Hotel
Find your favorite feline in the Catalina Hotel—a cozy new cat-tastic creation from Christina Young.
This is a four-panel, landscape-format screen printed on rigid and durable game board. With loads of handy setting, character, and creature info on one side and fantastic visually engaging planar artwork on the other, this screen is as useful as it is beautiful. The information is system-neutral, making it equally useful to GMs of 5E and the Cypher System.
Players: 2–4 • Ages: 10+ • Play time: 45–75 min.
Thunder Road: Vendetta is a revved-up restoration of the classic 1986 game of mayhem on the asphalt. Grab your crew, roll your dice, race your cars, shoot your guns, and try not to get wrecked.
This new version features exciting new additions, including random hazard tokens, such as wrecks, oil slicks, and more. Damage isn't merely one and done. Now, you'll draw damage tokens with exciting effects that can send your car careening across the board. You'll also have more choices on your turn, assigning one of your dice to your command board to repair damage, nitro boost, or send out your attack copter to fire away.
Players: 2–6 • Ages: 13+ • Play time: 20–30 min.
No Context is a party game designed by Banana Chan and Jason Slingerland and featuring the art of J.L. Westover, friend of Skybound, and prolific webcomic auteur aka Mr. Lovenstein! Players race to guess their opponents' secret panel from a lineup, while trying to get at least one other player to guess their own using only absurd two-sided comics panels as clues.
If a tree falls in the forest, does anyone care? Depends on who it falls on!
Munchkin Druids adds 112 cards to the game…the new Druid class and more nature-related monsters and weapons than you can shake a holy stick at. Watch out for the bloodthirsty Night Shade and wear—but don't eat—the Death Cap!
Within the pages of this slim, saddle-stitched book are magic portals, gateways to other worlds that are usable in most fantasy roleplaying games (especially games that are based on the classic RPG we all know and love).
Each gate detailed within is more descriptive in nature than mechanical, making it easy for GMs to incorporate these ideas into their games with as few headaches as possible. Sprinkle these gates across your campaign and watch as the player characters stumble their way into endless adventure!
Players: 3–5 • Ages: 14+ • Play time: 60–90 min.
In Behext, you'll curse and counter-curse your opponents into submission…while avoiding being Hexed yourself by the wild magics that have since passed beyond your control. This is a highly interactive card game in which everything is a double-edged sword.
It's not the typical "resource-engine" deck-builder. Rather, you are building for specific player interactions you wish to wield against opponents with powerful new spells for attack and defense.
Cursed Victory — Cards worth Victory Points are potentially dangerous to you during play. Buy them at your own risk.
Buy on the Fly — All newly purchased cards are placed directly into your hand where they are available for immediate use.
Features the core game, with 6 asymmetric Battlemages and starting decks (60 cards in all), tokens, and 86 main-deck Spell cards.
Players: 2–5 • Ages: 14+ • Play time: 30–60 min.
Ra is an auction and set-collection game with an Ancient Egyptian theme. Each turn, players are able to purchase lots of tiles with their bidding tiles (suns). Once a player has used up his or her suns, the other players continue until they do likewise, which may set up a situation with a single uncontested player bidding on tiles before the end of the round occurs.
Tension builds because the round may end before all players have had a chance to win their three lots for the epoch. The various tiles either give immediate points, prevent negative points for not having certain types at the end of the round (epoch), or give points after the final round. The game lasts for three "epochs" (rounds). The game offers a short learning curve, and experienced players find it both fast-moving and a quick play.
Experience the magic of the Wizarding World with Q-Workshop by embracing a Modern Dice Set! Each set includes a d4, d6, d8, d10, d100, d12, and d20, dedicated to one of the four houses and filled with symbols and details associated with that house. The dice material is mixed with glitter dust, making the colors even more appealing.
Pre-order with your Coqui Account Manager today!