Castle Panic 2E: Engines of War
This expansion to Castle Panic brings new Monsters that charge into battle with siege engines and an Engineer who uses new Resource cards to help you build Catapults, Ballistas, Barricades, and more to better defend the Castle. Prepare your forces! The fight just added Engines of War!
Players: 2–8 • Ages: 14+ • Play time: 15 min.
Players take turns sharing stories to answer hilariously relatable and annoying prompts then vote on who had the best story. Next, you all vote on who had the best whine. At the end of the night, whoever won the most rounds wins!
Terraforming Mars: Ares Expedition — Crisis
You choose phases and play project cards as normal. The difference is players are working together to keep Mars habitable after a natural disaster has landed the planet in crisis.
Every round, a new Crisis card will be drawn that will require the players to achieve a certain goal to remove that crisis from play. Each turn that a Crisis card is not completely dealt with, it will lower one or more of the terraforming metrics that keep Mars habitable. Handle all the crises as they arise. Eventually, a Crisis card will be drawn that allows the players to win the game once they have completed re-terraforming Mars.
Players: 3–5 • Ages: 14+ • Play time: 20 min.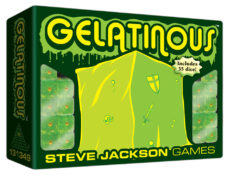 Gelatinous
Publisher: Steve Jackson Games
Item Code: SJG131349
MSRP: $16.95
Releases March 22, 2023
In Gelatinous, players start out as a wandering slime, using sparkling green dice to grow into a cube. But watch out—the other slimes are growing too! The first to grow into a cube wins…and the rest are lunch. Includes 35 glittery green dice and its own dice bag, with the rules printed on it!
Destroy your campaign with Calo's Book of Monsters, a collection of twenty new monsters appropriate to any Mörk Borg game. Every monster includes encounter hooks to inspire the gamemaster and make it easy to drop any one of these terrifying creatures into your next game session.
The enclosed rumors and micro-hex-crawl suggestions give the enclosed monsters a backdrop that fits neatly within the core game's rules-light, flavor-heavy setting.
Even more difficult but oh-so-tempting goals and goodies to add to any Munchkin game—will you go straight for the win at Level 10, or will the extra rewards tickle your inner munchkin? This is not a standalone game. You'll need one of the core Munchkin games to play.
Kitten Polyhedral Dice Sets
Kitten Polyhedral Dice Set:
Orange, Black, Gray, or Brown
Publisher: Steve Jackson Games
Item Code: SJG5906A, B, C, or D
MSRP: $15.95
Releases March 22, 2023
Each set includes seven polyhedral dice: 1d4, 1d6, 1d8, 1d10, 1d%, 1d12, and 1d20. With Katie Cook's adorable kitty faces and paws, and your choice of four different color combinations, you'll have the perfect mix of cute and curious!
| | | |
| --- | --- | --- |
| Code | Description | MSRP |
| DHGTG | Gimme That | $14.99 |
| DHOUO | Over Under Ostrich | $10.00 |
| DHSTB | Steal the Bacon | $10.00 |
| DHTCGCPOTFS | Taco Cat Goat Cheese Pizza: On Flip Side | $10.00 |
| SJG1447 | Munchkin Cthulhu | $29.95 |
| SJG3009 | Robin's Laws of Good Gaming | $13.95 |
| SJG4441 | Munchkin Batman | $44.95 |
Pre-order with your Coqui Account Manager today!