Players: 1–4 • Ages: 10+ • Play time: 15 min.
You are gardeners for a fickle and capricious king, who has a very specific idea of how he wants his magnificent garden arranged; however, he finds it whimsical to disseminate his different directives separately to the different gardeners. Moreover, the king forgets everything, all the time; as soon as you meet his expectations, you will find yourself starting all over again!
Gardeners is a simultaneous cooperative game that you will play in silence and in real time. Within the duration of the sand timer, you must arrange as many gardens as possible, always using the same tiles, but obeying different constraints from round to round. Everyone must deduce the current constraints by observing where tiles are placed or removed. The goal of the game is to score as many Constraint cards as possible.
36 Garden tiles
97 Constraint cards
59 Standard cards
21 Expert cards
1 Sand timer
1 Rulebook
Players: 1–4 • Ages: 14+ • Play time: 60 min.
Pachamama (Mother Earth) guides the Quechua people in their search for fertile lands. This Andean goddess brings prosperity to the families of those who profoundly worship her, and Pachamama paints the landscape with the fruits of their numerous crops.
Lead your people to uncharted territories in search of new lands to farm. You seek to explore these regions, to trace their contours, and to develop agriculture there according to the customs and legends of Pachamama. If you honor her by respecting her core principles of diversity and separation, Nature will reward you. If not, you will suffer her ire. Deduction and a good sense of "timing" should help you succeed…
62 Terrain tiles
16 Diversity pawns
1 Diversity board
20 Offering tokens
20 Scenario discs
20 Qechua meeples
2 Otoma meeples
1 Pachamama wheel
1 Plastic axle
64 Stickers
4 Screens
1 Gameboard
57 Crop tiles
4 Score Marker pawns
1 Rulebook
Players: 2–6 • Ages: 10+ • Play time: 20 min.
Once upon a time, Iguana stole fire from the village and fled to the sky. To restore fire to the world, Opossum found Iguana's hiding place, lulled him to sleep, and stole the fire with her tail—or so the story goes. Tails on Fire is an interactive card game in which the ever-changing selection of the best three playing cards for a round leads to a permanent dilemma, creating a unique gaming experience.
This challenging game with easy-to-learn rules is the smart work of German author Thomas Sellner. Set in a tale of Mexico's indigenous Huichol people, Tails on Fire is a fascinating composition of Mexican art, Huichol history, and super cute possums brought to life by Mexican artist Mayra Guadalupe Ornelas Ramos.
Components:
2 Stacks of cards (83 cards in total)
1 Rulebook
Players: 2–6 • Ages: 6+ • Play time: 20 min.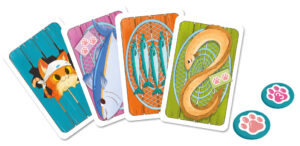 The good old people who run their stalls at the famous Korean fish market Jagalchi sometimes need a little rest from their hard work. While they take a nap, their loyal cats take over and manage the booth. The cats love their owners, but they also love fish. What could go wrong? You have guessed correctly, the cats cannot resist the fresh fish, and 1-2-3 grope all after the most delicious species!
Fish & Katz delivers a fast reaction game at its best, including your very own cat paw finger-outfit for full cat authenticity. In Fish & Katz, sweet cats and yummy fish are gathered at an Asian fish market, brought to life by well-known Korean artist Hami. Like reaction games with a bell, Fish & Katz has an incredibly high prompt thanks to the cat paw finger outfit and no downtime at all. Fish & Katz is therefore a great game to play with children and between generations too.
60 Cards
6 Kitten paws made of cloth
1 Bag with 20 plastic tokens
1 Page of stickers
1 Rulebook
Players: 2–8 • Ages: 8+ • Play time: 10 min.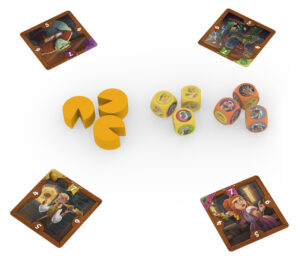 In Cheese Master, players are rolling all dice and need to be as fast as possible to figure out how many cheese are left on the floor. Each die will show animal faces or cheese pieces and create a funny interaction that you will need to understand before your opponents.
There are 4 cheeses and 2 mice eating cheese. One cat is there, chasing a mouse, but the dog is making the cat run away. So how many cheese pieces are left? Be quick, as the slowest of players will not even be able to take a guess!
40 Double-sided Kitchen cards
6 Dice
7 wooden Cheese pawns
1 Rulebook
King of Tokyo: Even More Wicked
Players: 2–6 • Ages: 8+ • Play time: 30 min.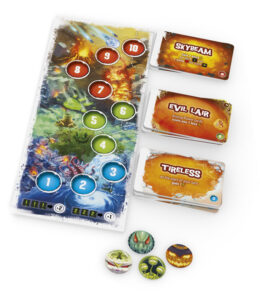 The Wickedness Gauge from the King of Tokyo: Dark Edition is getting its own micro-expansion! This expansion includes the Wickedness board, 10 Wickedness tiles, and all 15 counters representing every monster in the King of Tokyo base game and expansions.
In addition to Victory Points, 1s and 2s grant you Wickedness Points as follows: For each three-of-a-kind of 1s, gain 2 Wickedness Points; for each three-of-a-kind of 2s, gain 1 Wickedness Points. Track any points gained by moving your Monster counter up the Wickedness Gauge. If your counter moves onto or beyond the 3 , 6, or 10 space, you may take a tile of your choice from the tiles available at that Wickedness level.
1 Wickedness Gauge board
10 Wickedness Tiles
15 Monster counters
1 Rulebook
Players: 2–4 • Ages: 10+ • Play time: 45 min.
Little Town is a clever and accessible strategy worker-placement game, designed to be played with family but also between more experienced gamers. Simple to handle, its depth allows everyone to quickly develop their own way to play.
Calling all artisans! Specialists are heading into the valley and working on new buildings like the school, museum, and forge… Collecting resources and constructing structures has never been so easy—that is, as long as each worker is assigned to the right tasks!
86 Improvement cards
6 Objective cards
8 Building tiles
1 Artisan board

Gameplay aid

1 Rulebook
Puzzle Challenge: Firefighters to the Rescue
Puzzle Challenges are puzzles/brain-teasers for kids ages 6 and up! Have fun putting together a puzzle while completing Challenges outlined on cards! Your little ones will enjoy experiencing these thrilling moments and interacting with puzzles in a very original way!
There are 40 Challenges in this box, all with increasing difficulty. Each challenge will first ask you to build a Landscape within the square frame. Once done, flip all the remaining puzzle pieces to their "road" side. Once done, place the firetrucks as indicated as well as their respective objectives. You now need to solve the puzzle by placing all tiles so the right firetrucks get to their respective objectives.
4 Puzzle borders
25 Puzzle pieces
40 Challenge cards
3 Emergency tokens
3 Firefighter tokens
1 Solution booklet
1 Rulebook
Pre-order with your Coqui Account Manager today!