Witcher Dice Pouch: Vesemir, Head of Kaer
This dice pouch, inspired by The Witcher franchise, depicts the ruins of Kaer Morhen, which was once a training ground for witchers from the School of the Wolf. It's made of sturdy black cotton, which perfectly contrasts with the intensity of the green print. The pouch closes up tightly with the help of durable strings and can hold up to five full sets—meaning 35 dice!
Players: 1–5 • Ages: 8+ • Play time: 30 min.
Every wizard knows that the best ingredients for spells and potions are grown fresh! Power Plants is a strategic tile-laying game. Each turn, add one magical plant to the garden and decide which dynamic powers to unleash. As the garden grows, your sprites will battle for control of valuable fields. The more territory you can control, the more gems you earn.
This is the Kickstarter Deluxe Edition of the Power Plants board game—plus a play mat by Kids Table Board Gaming. It includes the core board game, custom wood pieces, bonus patch tiles, bonus plant cards, Spades mini-expansion, Sprites mini-expansion, a silkscreened cloth bag, custom Trayforge box insert, and all unlocked stretch goals.
Stealing Stories for the Devil
Stealing Stories for the Devil is a fast-paced tabletop roleplaying game by legendary designer Monte Cook, in which you save existence as we know it by bending reality to carry out the perfect heist. Getting in, getting out. The disguises. The smooth-talking and careful bluffs. The stealth, the hacking, and—when the moment requires it—the quick action. And above all, the beautiful plan, so carefully researched and crafted.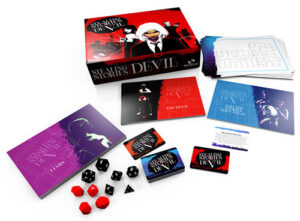 Oh, you're good at it. You and your friends, you do the impossible. It's never as easy as it seems (not like it ever seems easy), but you pull it off—every time. And you look good doing it. Bond? Ocean? Neo? Yeah, they're okay. You're the real deal.
Because you're not just master thieves. You're master thieves from the future. And better yet, you're Liars. A special kind of liar: When you lie to reality, it believes you. A door where there wasn't one before. A lock someone forgot to check. A guard who looks away just…now. If the mission isn't going right, you fix it. You change the rules. You take control of reality itself.
A cursed moon hurtles through the multiverse, crashing from one plane to the next, never at rest, forever fleeing a catastrophe that predates existence itself. Behold the Planebreaker! The Planebreaker visits all planes, all demiworlds, and all dimensions. Some are known to sages and planar travelers. But in a multiverse stretching across epochs, the number of previously uncatalogued planes is vast. The Planebreaker races through all of them, in time, and the Path that trails behind it creates a route that links them all.
Path of the Planebreaker for Cypher System introduces this enigmatic interplanar object that unlocks access to the planes for characters of any tier. This book includes:
The Planebreaker and its fascinating city of Timeborne—home to refugees, planar travelers, and residents from across the planes. Base an entire campaign in Timeborne, or experience its intrigues as you pass through.
Dozens of exotic planes to explore. Venture into the Citadel of the Fate Eater, get lost in the Grove of Crows, or find despair in the Tomb of Tomorrow. They're all connected by the Path, a sort of interplanar road that trails behind the Planebreaker.
New creatures, NPCs, cyphers, and artifacts for the GM to introduce. Plus two exciting, plane-hopping adventures that make it easy to introduce PCs to the Planebreaker and planar travel.
New playable species descriptors, foci, and abilities for players. Play a changeable Chimeran or concept-embodying Inkarnate who as stiches shadows or wields a chaos blade!
Here, kitty, kitty! Oh, the fur-flying fun you will have with these feline favorites. The quality material and unique designs on each die will have you and your friends chasing more than mice. Playful "cat creatures" adorn these dice and are sure to make any RPG one catastic adventure.
The Seven Deadly Sins Die will make your next game simply wicked. This slightly sacrilegious polyhedral features unique icons representing each vice. How you use it is up to you! The back of the package holds the key to the icons, and you can use them in any RPG–or make up your own games!
Key Features:
This seven-sided, 13mm, black-and-white die will be the talk of your next game night!
Collectors will be intrigued by this unique die.
Makes a great impulse buy! Hang it at your POS and/or in your RPG section!
Known across the seven seas for their looks and luck, the Pirate d6 Dice Set is loaded like a ship's hold with beautifully crafted dice featuring the cross 'n bones of the notorious Jolly Roger. Time to set sail, scallywags! Avast Ye! Get your hooks…er, hands on these today!
Six shiny black dice with white pips (The 1 pip is the skull and crossbones.)
At 19mm, these dice look and feel great!
Another classy d6 set to add to your Steve Jackson Games' dice and dice bag display!
Players: 2–5 • Ages: 7+ • Play time: 30–40 min.
Race to the summit to score as many points as possible and win the covered jersey. To win a race, you must be the first player to get rid of all your cards. Racer cards may be played alone or in specific combinations of the same color or same value. There are also breakaway specialist cards which can work alone or as part of your team.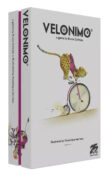 Velonimo
Publisher: 25th Century Games
Item Code: TFC30000
MSRP: $19.99
Releases February 8, 2023
The game has five rounds, each representing the ascent of a different mountain summit by riders in a cycling race. To win the round, you need to get rid of all of your cards before any other player. Even if you are not the winner, you can still score points for your position. Keep playing until there is only one player left. At the end of each round, the player with the highest points total is the leader and received the coveted jersey. The player who receives the jersey at the end of the last round, after the final scoring, is the winner.
| | | |
| --- | --- | --- |
| Code | Description | MSRP |
| CAT35001V | BattleTech Total Warfare | $39.99 |
| GGP010 | Funfair | $39.99 |
| GGP014 | Land vs. Sea | $29.99 |
| ONKAFA | Fake Artist Goes to New York | $23.00 |
| ONKDSA | Deep Sea Adventure | $23.00 |
| QWSSWGE3T | Witcher Dice: Geralt, White Wolf | $23.00 |
| RVM028R | Knight Fall | $44.99 |
Pre-order with your Coqui Account Manager today!