Players: 1+ • Ages: 10+ • Play time: 30–45 min.
Dice Kingdoms of Valeria is a roll-and-write game designed by Levi Mote. On your turn you'll roll six dice—two dice will activate the citizens for all players simultaneously, but the other four dice are just for you. Will you hire citizens to patronize the guilds and fill up your treasury so that you can gain scoring options (yellow die)? Will you slay monsters for glory and rewards (red die)? Or, will you build roads to Domains that give you citizens, gold, monsters, and dice manipulation powers (green die)? Then consider how much Magic you have to make everything that much better (blue die).
You, your spouse, and the couple next door have been playing Dice Kingdoms of Valeria every evening for nearly two weeks, and you're about to cement a winning streak to put the others to shame. You open the game box, hand out the sheets and…OMG…there's not enough for everyone! The pads are empty…exhausted! Don't let this happen at your game night. Have a pack of DKOV Game Sheet Refills handy, and you'll avoid the  embarrassment of not being able to play your favorite game.
Winter is not coming…it's here! Snow is on the ground, the streets are iced over, the canals are getting sluggish, and the barmaid at the Cask & Trotter is offering to warm up your cold brew; things change in the winter. The knights on the wall have fewer goblins to repel, the guilds reorganize their membership lists, the monster-kin hunker down in their dens for the long winter nights and it sure ain't easy finding the trailheads to their lairs. Yes-sir-eee, it's like a whole different world, out there!
When you're ready for a new challenge playing Dice Kingdoms of Valeria, check out the Winter Expansion. This pack contains two winter-themed 50-sheet pads to use instead of the base-game sheets, and there's a set of rules on the back of the cover sheet explaining the differences you'll encounter.
Players: 1 • Ages: 10+ • Play time: 30–45 min.
Do you have what it takes to defend Valeria? For more than a month, the monster-kin have surrounded your fortress at Valeria's southern border with hordes of monsters and mighty engines of war. Your supplies are nearly exhausted, but you've rallied your soldiers and holy troops to meet the foe's latest surge. If you cannot break the siege in seven days, your fortress will fall and the southern border will crumble.
Siege of Valeria is a quick-playing survival game, that tasks players with defending their castle from wave after wave of monstrous enemies. You will use cards and dice to defeat the assault, and It is vital that you find clever ways to combo your powers! This game includes custom dice and art by Mico.
The campaign expansion to Siege of Valeria introduces rules for a multi-game series that will test your skill at defeating the troops and siege engines arrayed against you. A powerful Boss and Elite Troops will join each battle under an enemy Commander while penalties and bonuses follow you from one game to the next. A Duke is there to assist you, but it is your own skills that will lead the campaign to glory…or to failure.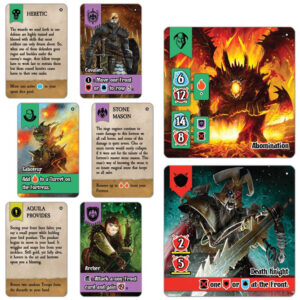 There is a lot of content (and lots of story flavor text!) in this epic-feeling campaign expansion. This box includes: 16 Elite Troops, 7 Bosses, 2 Siege Engines, 1 Wound Token, 10 Commanders, 10 Dukes, 10 Penalties, 10 Bonuses, 3 Starter Champions, 2 Champions, 2 Events, 1 Reference card, and 1 Rule Book.
Players: 2–6 • Ages: 10+ • Play time: 30–45 min.
If you like trick-taking games, you will love this one. In Thrones of Valeria, cards you play have powers, the rank of suits fluctuates, and winning a trick can actually be damaging depending on timing! Long ago, when Valeria was a fledgling realm, the five great houses were constantly bickering, stealing, conspiring, and even assassinating each other for the chance to become the wealthiest and most powerful house, allowing one to rise to the throne of the land…temporarily. The game that evolved from their power struggles has thrived among the common people looking for a taste of the antics of the nobility and is now the sort of game travelers play in taverns, for fun and money.
Thrones of Valeria reflects the tug-of-war between the great houses in the earliest days of the Kingdom. This game represents a traditional card game with a deck made up of five suits of cards numbered 1 to 9, plus three special Jesters. The game also features a Standings Board and chunky "mahjong-style" House tiles to reflect the relative power of each house throughout the game. A draw bag for the House tiles and an assortment of coins are also included.
Players: 2–6 • Ages: 10+ • Play time: 20 min.
Too Many Cooks is a cooperative, hidden-information card game about fussy chefs cooking soups together, played in 3 rounds of 5 minutes. You are chefs working together on a delicious soup that satisfies some shared culinary tastes. The catch is that each chef has secret personal tastes which must also be sated!
Players: 2 • Ages: 14+ • Play time: 45–75 min.
Stalingrad, 1942. Before you awaits a grueling conflict in this cornerstone battleground. As the bullets and bombs tear the city asunder, only through wits and valor can you seize the cornerstone of the entire Eastern Front and change the course of history.
A heavy burden rests on your shoulders. Every casualty suffered in battle will weaken your forces for the entire campaign. Every bomb blast and mortar shell leaves the very ground for which you are fighting in further ruin. Every inch lost to the enemy brings you closer to the jaws of defeat. Over the course of up to fifteen branching scenarios, you will decide the fate of Stalingrad and, perhaps, the war itself. Even though the consequences of your actions will persist, the game itself can be fully reset and replayed, allowing you to explore every potential outcome.
Undaunted: Stalingrad is a monumental standalone game that expands the series's scope and challenge beyond anything that's come before. Featuring more than 300 unique illustrations by Roland MacDonald and 150 evocative mission briefings written by acclaimed author Robbie MacNiven, immerse yourself in this campaign at the heart of the war.
Xenos Rampant is a setting-agnostic, large skirmish, miniature wargame for fighting science-fiction battles using 28mm figures. Developed from the popular Lion Rampant ruleset, the core mechanics featured within will be instantly recognizable to those familiar with the other Rampant systems, while still being accessible to new players. Xenos Rampant contains all the rules, army lists, and scenarios required to fight science-fiction battles as well as a whole host of subgenres including: post-apocalyptic, weird war, and near future. So, whatever your science-fiction preference, the rules can cover it—just let your imagination run rampant.
Pulp! is a set of wargames rules covering heroic adventure and dastardly villains during the early 20th Century. Enter a world of perilous adventure, and explore steaming jungles, desert canyons, and arctic wastes! Brave the perils of nature, and discover lost ruins, ancient treasures, and the secrets of forgotten civilizations! Race against rival adventurers, and face off against diabolical villains! Take to the city streets, and fight back against gangsters, spies, and sinister cults!
Pulp! is a scenario-driven skirmish wargame set during the interwar years of the early 20th Century. Players build teams of bold explorers, daring archaeologists, hardboiled detectives, and costumed avengers—or criminal masterminds and evil geniuses—and dive into a world of fortune, glory…and menace. Suitable for both solo and cooperative play as well as the classic head-to-head mode, Pulp! contains all the rules needed to game globetrotting escapades in this rip-roaring era.
Hard City: Noir Roleplaying
Hard City is a roleplaying game of mystery and hardboiled action in a city that never sleeps. In Hard City, character creation is swift and simple, generating competent yet flawed individuals and focusing on what sets them apart as they walk the fine line between right and wrong. Fast-action resolution places the emphasis on the momentum of the plot, while the sandbox setting provides evocative hooks for adventures—fight crooks, rescue the innocent, thwart blackmail plots (or start them!), or uncover corruption in the Mayor's office.
Stalk the mean streets of a world filled with two-bit thugs, hard-nosed gumshoes, intrepid reporters, gangsters, and femme fatales, all doing what they must to survive in the concrete jungle. With trouble around every corner, a secret on every lip, and a gun in every pocket, danger is never far away in the hard city.
Jackals: Travellers on the War Road
Jackals: Travellers on the War Road is a supplement exploring the regions of the Zaharets and the cultures established in Jackals (OSPRPG004). It expands the lore for each of the four cultures introduced in the core book—Luathi, Gerwa, Melkoni, and Trauj—describing their various tribes, clans, and city-states, their beliefs, strongholds, and day-to-day lives, adding more nuance and depth to the world and giving players more ways to personalize their characters. New rites, virtues, and talents provide further customization options, while adventure hooks scattered throughout the book hint at new menaces to be battled, new challenges to be overcome…and new glories to be won!
Pre-order with your Coqui Account Manager today!