Take your game immersion to the next level. Stay in control and never lose track of your remaining spell slots with the included 5E spell-slot tracker and dry-erase marker. Each Spell Codex is compatible with official D&D spell cards and accommodates 160 spells. Also go on some light questing with the included free 5E-compatible mini-adventure! Without cards, each Spell Codex measures 21.7 × 18.8 × 3cm (8.54 × 7.4 × 1.2″).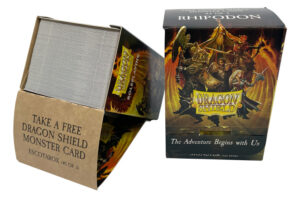 Pre-order 1 of each RPG Spell Codex and get 4 FREE packs of 5E-compatible Dragon Shield promo monster cards!
Monster Cards feature the dragons from the new roleplaying products' mini adventures! They're compatible with D&D 5E and very collectible. Keep the Monster Cards by the counter to give away with any RPG sale.
Features: Secure magnetic clasp, room for 160 spell cards, compatible with official D&D spell cards, dry-erase marker and 5E-compatible spell-slot tracker included, and durable and elegant Dragon Skin exterior.
Pre-order with your Coqui Account Manager today!