Players: 3+ • Ages: 17+ • Play time: 30–90 min.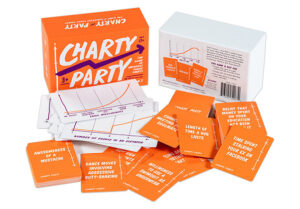 Frequently described as "Cards Against Humanity for nerds," Charty Party cleverly challenges players to create hilarious and goofy charts. Gameplay is simple: For each round, one player is selected to be the Judge and flips over a chart card (with topics ranging from age to drunkenness to anxiety level). Everyone else anonymously plays their funniest orange card to name the "Y Axis" (vertical side) of the chart. The judge presents each chart-plus-card combo and picks a winner based on which one they found funniest!
Charty Party has sold more than 40,000 copies in e-commerce and is quickly becoming a millennial favorite due to its smart, fresh take on a popular gameplay style. You can learn to play in under a minute, and the humor style leans toward clever rather than offensive.
Aldabas: Doors of Cartagena
Players: 1–4 • Ages: 14+ • Play time: 30 min.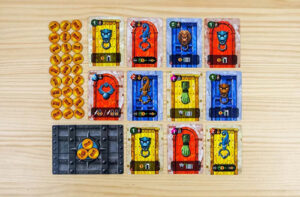 In Cartagena, Colombia, the doors speak—not with words, but with grandiose aldabas (door knockers) that adorn them. In Spanish colonial times, the aldabas announced your job and your social status with the design and detail. In this clever card game, you seek to fill your neighborhood with influential people as they go about their jobs. Those who keep the best company (and the fullest coffers) will be held in highest regard!
This expansion features all-new artwork from the Fifty-Nine Parks Print Series, including the newest national park addition, New River Gorge. You'll also freshen up your gear, see new sites along the trail, and experience wildlife in a whole new way. Wildlife blends in naturally with both the base game and the hit Parks expansion Nightfall.
Ten Years of Adventure includes fan- and GM-favorite adventures chosen from a decade of official Monte Cook Games Gen Con events, along with new adventures created especially for 10th-Anniversary games at Gen Con 2022. Some of these adventures have been previously released in PDF, but none have been available in print before now.
Ashes Reborn: The Queen of Lightning
Dimona Odinstar uses divine and time magic to lead her army of knights into battle, moving with the speed and ruthlessness of lightning itself! Mount units return! Take to the skies with Dimona's signature Empyrean Mount. Use this prebuilt deck to take down your opponents, or combine Dimona's cards with your favorite Ashes spells and allies to customize a new deck. Divine and time dice, not included, are required for the deck.
Players: 3+ • Ages: 17+ • Play time: 30–90 min.
Whether you're a pun newbie or wordplay master, Puns of Anarchy is a ridiculous punning free-for-all anyone can play. Just change a few letters on the dry-erase cards to turn favorite bands, movies, and more into hilarious puns. Play the best pun in a category to win! Gameplay is rapid-fire, wildly creative, and will get even the shyest punners churning out applause-worthy wordplay.
Puns of Anarchy has 4.7 stars on nearly 1,800 Amazon ratings and has sold more than 60,000 units in e-commerce in two years. It's is quickly becoming a millennial favorite due to gameplay that allows even beginners to easily create hilarious puns. You can learn to play in two minutes, and content can be as clean or dirty as the puns players make.
This pack fits seamlessly with the original Puns of Anarchy game and will add hours of wildly creative, laugh-out-loud punning.
These Japanese-inspired dice set are made of the best material, with digits written in Japanese script and adorned with tiny flowers of a cherry tree. Each set contains seven standard dice of regular size.
Players: 1–4 • Ages: 14+ • Play time: 30 min.
Competition is tough in the world of sweets. You'll need to plant your fields strategically with cacao, coffee, peanuts, and vanilla and then use those beans efficiently to make the best confectionaries around! Using every resource is necessary to beat out your competition.
Each player has their own deck with beans on one side of each card and a factory on the other, as well as their own field in which to plant. Every round, one player draws a card and the others search their deck for the same card; then, everyone chooses their action simultaneously: to either plant, harvest, or build a new factory. Planting gains you new cacao, coffee, peanut, and vanilla resources, and harvesting allows you to use those resources in your factories. Each confectionary made in your factories earns you one point, and at the end of 20 rounds, the player with the most points wins!
Players: 3+ • Ages: 13+ • Play time: 60 min.
In this new game from Illuminati designer Steve Jackson, each player takes turns acting as the Judge to read a card outlining a conspiracy. Then the other players choose from their own cards, competing to create the wildest, silliest, or most believable theory. Every turn, each player tries to convince the table—and the Judge—that their conspiracy is the truth. It's fun for everyone who is old enough to read the news and wise enough to know that there's more they're not telling you… Now you get to decide what's behind those stories.
Players: 1–4 • Ages: 14+ • Play time: 50 min.
Your response team must work together, using your individual talents to avert an ecological disaster, one which threatens to contaminate marine life and devastate the ecosystem. The situation is dire and escalating by the minute, so there is no time to waste. Contain the oil flowing from the rig. Remove what oil you can from the waters. Rescue the marine animals. The world is watching. The fate of the coast is in your hands!
This fully cooperative game features a four-way dice tower as the oil rig, which randomly drops oil dice onto the four quadrants of the game board. In this respect, the game is a reverse-tower-defense game, as players sail the perimeter trying to push back and contain the oil, remove dice from the water, and save the sea life.
Communal resource cards are chosen by the team before the game begins and are then powered for use by either removing three oil dice from the game or saving a full set of six marine creatures. Weather dice complicate matters, adding new challenges for the round that restrict movement, drop more dice, or increase the cost of operations.
It takes coordination and teamwork to win, as new oil dice are dropped at the beginning of every turn and the number of oil dice dropped increases over the course of the game. If the team can accomplish all three objectives on their Win Condition card and remedy any potential losing conditions on the board by the end of a given turn, they win! Otherwise, the game will end when the sixty dice from the bag are exhausted or they are unable to correct one of the three losing conditions. Contain the oil. Save the sea life.
In the glory days of Ancient Felstad, artisans competed to produce the most beautiful, the most functional, and the most enduring constructs. These living works of art could be seen everywhere in the city, fulfilling many of the day-to-day tasks that kept the magical metropolis running. They provided transportation and security, worked on construction and cleaning, exterminated vermin, butchered animals, and tended furnaces. Then came the cataclysm. The ice and snow not only buried and destroyed most of the constructs active in the city, but nearly wiped out the knowledge of their creation. Certainly, the constructs animated by the explorers of the Frozen City are crude in both form and function compared to what once existed.
This supplement for Frostgrave: Fantasy Wargames in the Frozen City provides a study of constructs, offering expanded rules for their creation, modification, and even reanimation. It examines enchanters' workshops, detailing new magic items and base modifications that aid in the animation process, and it also includes a bestiary full of new constructs. Of course, much of the knowledge that was once lost still exists in the frozen ruins, so the book also features several scenarios set in the once-great factories where the art of construct creation reached its pinnacle.
Lion Rampant: Second Edition
Take to the battlefield as Richard the Lionheart, Joan of Arc or William Wallace—or forge your own legend—with Lion Rampant: Second Edition. From the Dark Ages to the Hundred Years' War, raids, skirmishes, and clashes between small retinues were a crucial part of warfare, and these dramatic small-scale battles are at the heart of this easy-to-learn but tactically rewarding wargame.
Lion Rampant: Second Edition is a new, updated version of the hit Osprey Wargames series title, and it retains the core gameplay while also incorporating a wealth of new rules and updates from several years' worth of player feedback and development. Whether they are looking to recreate historical encounters or tell their own stories, the varied scenarios, unit types, and sample retinue lists found in this volume provide everything players need to face each other in quick, exciting, and, above all, fun tabletop battles.
| | | |
| --- | --- | --- |
| Code | Description | MSRP |
| CAT35003VA | BattleTech Tactical Ops Advanced Rules | $39.99 |
| CAT35003VB | BattleTech Tactical Ops Advanced Units | $39.99 |
| CB72400 | Warhammer Fantasy Roleplay 4e Core | $59.99 |
| DRMFR2021 | Mantis Falls | $34.95 |
| MPG029 | Root The Roleplaying Game Core Book | $39.99 |
| MPG030 | Root the RPG Travelers and Outsiders | $39.99 |
| PEX2002 | Long Shot The Dice Game | $29.99 |
| RVM009 | Above and Below | $49.99 |
| SND1005 | SHOBU | $34.99 |
Pre-order with your Coqui Account Manager today!