Battletech Counters Pack: Battleforce
This set includes five punchboards, representing two armies of nearly eighty Unit and Command counters each, as well as two maps that form a large Strategic BattleForce map. Laminated, the back side can be used to create your own worlds.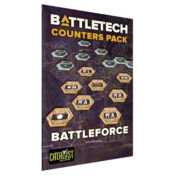 Battletech Counters Pack Battleforce
Publisher: Catalyst Game Labs
Item Code: CAT35190
MSRP: $19.99
Releases August 18, 2022
Doctor Who: The Roleplaying Game 2E
This book presents all the rules and background you need to voyage across space and time with the Doctor—or as new characters experiencing brand new epic adventures!
The exclusive Collector's Edition of Doctor Who: The Roleplaying Game is beautifully finished, featuring a wraparound cover image of the TARDIS Console Room, with spot UV to highlight the glowing crystals. The 256-page book is presented in a slipcase intricately designed to reflect the exterior of the Thirteenth Doctor's TARDIS. The slipcase opens with two doors at the front held closed with magnets. The book content remains the same as the standard edition, with the addition of a ribbon bookmark and striking page edging in TARDIS blue.
Warhammer Age of Sigmar: Soulbound — Champions of Death
The book features new undead Species, new Archetypes, new Talents, and devastating new spells and Miracles. Champions of Death includes:
Insight into the Great Necromancer Nagash, his history with the Soulbound, and why he may deign to forge a deathly Binding.
Rules to play as horrifying Ghouls, skeletal Wights, vindictive Soulblight Vampires, spectral Nighthaunts, or powerful Ossiarch Bonereapers.
Over 50 new Talents, 10 powerful new Miracles of Nagash, and 50 new spells drawn from the twisted Lores of Magic wielded by the undead.
Over 30 new Endeavours for undead characters to undertake, as well as new Dark Rituals to unleash on your foes.
Advice for Gamemasters and players on running Death-focused campaigns, as well as statistics for over a dozen servants of the Forces of Order for your Champions of Death to face! 
Players: 4–10 • Ages: 14+ • Play time: 30 min.
Avalon Big Box is a remastered edition of the classic social deduction game The Resistance: Avalon with a huge amount of additional content added for near limitless gameplay options. Included are 23 distinct characters and numerous optional modules including Lancelot, Excalibur, Plot Cards, Sorcerers, and Rogues that were released as expansions for Avalon and The Resistance. Also included are new roles and modules such as the Messengers, Lunatic, Brute, Revealer, Cleric, Trickster, and Deceiver.
Path of the Planebreaker 5E
A cursed moon hurtles through the multiverse, crashing from one plane to the next, never at rest, forever fleeing a catastrophe that predates existence itself. Behold the Planebreaker!
The Planebreaker visits all planes, all demiworlds, and all dimensions. Some are known to sages and planar travelers. But in a multiverse stretching across epochs, the number of previously uncatalogued planes is vast. The Planebreaker races through all of them, in time, and the Path that trails behind it creates a route that links them all. Path of the Planebreaker introduces this enigmatic interplanar object that unlocks access to the planes for characters of all levels.
Ashes Reborn: The Artist of Dreams
Hope Everthorn uses illusion and time magic to sculpt the dreams of her foes, challenging their notions of reality and fantasy! Use Hope's duplication abilities to swarm foes with conjured spirits! Use this prebuilt deck to take down your opponents, or combine Hope's cards with your favorite Ashes spells and allies to customize a new deck.
In Munchkin: Turtle Carnage, we've got a shell-load of great new cards for you! Be careful not to wake the Napping Turtle while you battle the undead Riga-Tortoise with your Hot Rock. And always remember, Slow and Steady wins the race to Level 10!
Bring the beauty and serenity of the ocean to your land-locked gaming table with the Turtle d6 Dice Set! These 16mm dice come in soothing shades of blue and green to add some color to your game table—no scuba gear required!
Key features:
Great for any game that requires six-sided dice.
Broad customer appeal.
Watch for more of our ocean-themed dice—mix-n-match them all!
They're cute. Just adorable. Grab these six 19mm dice and use your baby chibis in any game that calls for six-sided dice. But do it now…before they GROW UP!
This set includes two each in your obligatory Chibithulhu colors: black pearlized with green ink, two purple pearlized with green ink, and green pearlized with yellow ink. These dice are a great size for any dice-rolling game! John Kovalic strikes again with his charming artwork. SJG's dice and dice bags go together! Mix and match them on your shelves!
Pre-order with your Coqui Account Manager today!