Aeon's End: Legacy of Gravehold
Players: 1–4 • Ages: 14+ • Play time: 60 min.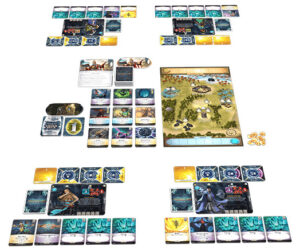 Aeon's End: Legacy of Gravehold is the second legacy game in the Aeon's End line of games. Legacy of Gravehold has a deeper, more immersive narrative with branching paths. After each game, players will receive experience. They will spend that experience on enhancement stickers. Those, along with player cards, will allow the players to become more powerful. However, the nemeses that players will face grow stronger and stronger with each battle. Legacy of Gravehold has more than twice as many mages as all previous base sets—and more than twice as many nemeses as well.
Players: 4–8 • Ages: 10+ • Play time: 15–20 min.
The mummy's curse has brought all the exhibits to life, and they've crashed the Museum of Unnatural History's annual masquerade ball! Night of the Mummy is a 20-minute game of hidden roles and logical deduction. Each player takes on the role of a classic monster at a masquerade party—identify and expose everyone else to break the curse and escape!
A standalone expansion to Dracula's Feast: New Blood, Night of the Mummy improves everything you loved about the original—more roles, unique interactions, and a brand new mechanism: Some characters hide while dancing, not revealing their roles to other players! Best of all, combine it with Dracula's Feast! Incorporate roles from either game into the other for even greater replayability! The game comes with 10 unique new roles, including 3 advanced guests.
Summoner Wars 2E Faction Decks
The Cloaks are a band of scrappy fighters and sly bandits, ready to sneak around the battlefield and launch calculated attacks with their advanced mechanical inventions and weapons. They're led by Vlox, who has the ability to copy any other ally's abilities, adapting to any situation.
The Skyspear Avians are a group of winged warriors, capable of flying over foes and flocking into perfect formations. With Ava as their leader, no enemy is safe from the reach of the Avians' aerial attacks!
The Witcher Dice Set: Geralt, Silver Sword
Inspired by The Witcher franchise, this dice set is dedicated to Geralt of Rivia—a seasoned monster slayer. The set contains 8 pieces: 7 polyhedral dice and a metal coin featuring Geralt's depiction, which acts as a D2. Each die is painted caramel with silver engravings. The highest-value faces and coin reverse display the Wolf School symbol.
AuZtralia: Revenge of the Old Ones
AuZtralia: Revenge of the Old Ones enables you to play the game with one player controlling the forces of the Old Ones. This allows the game to be played by up to five players. As well as being able to decide where to place their forces, the Old One player can also summon terrible creatures from the void to create even more havoc. Now you can raise Nyarlathotep or call forth the Hounds of Tindalos to defeat the scourge of humans invading your lands.
Kitten Caster Deluxe Dice Bag
What mischievousness does this Kitten Caster have up their sleeves? I mean, they don't have sleeves, but if they did…we might all be in trouble. This enchanting 7″ × 7″ dice bag with a satin lining will hold lots of dice (over 100!), as well as any adorable accoutrements you need to carry.
Duck of Doom Munchkin Dice Bag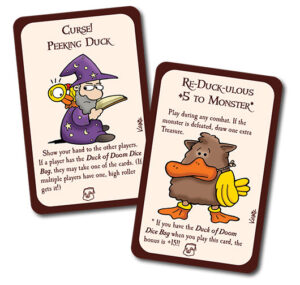 You should know better than to pick up a duck in a dungeon…even if it's on a dice bag! This 7-inch square Munchkin Duck of Doom Dice Bag can hold all the Munchkin dice you can stuff into it—and thus ensure that all your friends' Run Away attempts are appropriately doomed. Includes the two Munchkin cards (fittingly modified) that came with the original Duck of Doom. Keep your trusty duck by your side to get extra bonuses when you play these cards!
Pre-order with your Coqui Account Manager today!