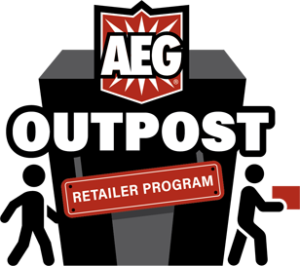 Learn how to get guaranteed allocation and returnability on these releases on our AEG Outpost Program page.
Players: 2–9 • Ages: 14+ • Play time: 45–60 min.
In Ready Set Bet, you and your friends head to the races for a day of cheering, jeering, and betting on your favorite horses, whose fates hang on every roll of the dice.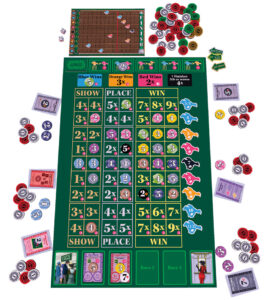 Ready Set Bet is played over four rounds. Each round consists of a race followed by bet resolution. During each race, players freely place their bet tokens on the board while the race is going on. After each race, players win or lose money for each of their placed bet tokens and then receive a VIP Club card to help them win more money in the following races. After four rounds, the player with the most money wins!
Players: 2–5 • Ages: 10+ • Play time: 10–45 min.
That Old Wallpaper is a card game of piecing things together. Remember that old wallpaper we used to have? In that one room? With the funky colors and those weird sunburst patterns or whatever? Okay, good, because that's what we're doing. That Old Wallpaper is a game of drafting stacks of wallpaper cards and piecing them together to most closely recreate the patterns from your memories.
The player who matches the most shapes and colors, collects the most unique mementos, and puts together the highest-scoring section of wallpaper wins the game—and makes their grandma proud.
Pre-order with your Coqui Account Manager today!