Pocket Detective: Season 1
Players: 1–6 • Ages: 14+ • Play time: 60 min.
In Pocket Detective, players investigate tangled cases and mysterious stories. Gather clues, interrogate suspects, perform arrests, and match pieces of information to successfully solve the case. Test your investigative skills with three criminal cases: "Murder at the University," "Dangerous Liaisons," and "Time is Running Out."
A turn consists of choosing one of the available cards and following a lead on it. The cards may represent a Clue, Location, Witness Interrogation, Special Action, Arrest of a Suspect, etc. The goal is to solve the case in as few turns as possible.
Sherlock: Case Connection
Players: 2–4 • Ages: 8+ • Play time: 30 min.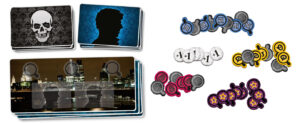 In Sherlock: Case Connection, you are a detective investigating a crime. Collect proof, make connections between threads, and use this evidence to reconstruct the leads that you are pursuing. Solve the nefarious plots that Sherlock has discovered as you strive to become the world's next greatest detective. Stay determined, and you might even overcome the master himself!
Sherlock: Case Connection is a competitive puzzle game of investigation and deduction that pits you against Sherlock's foes in an effort to become the greatest detective in the world. Visit locations to gather evidence and reconstruct your theory of the crime. There are many ways to reach the same conclusion; make efficient connections to earn bonus points. Compete for the role of world's greatest detective!
Pre-order with your Coqui Account Manager today!