New from Steamforged Games, in partnership with Bandai Namco Inc. and From Software, Dark Souls: The Roleplaying Game is a complete tabletop roleplaying game of adventure, horror, and tactical combat. Inside the lavishly illustrated, 500-page, hardback core book is everything you need to run thrilling roleplaying campaigns set in the ruinous Dark Souls universe, including a full set of fifth-edition rules enriched with signature Dark Souls mechanics.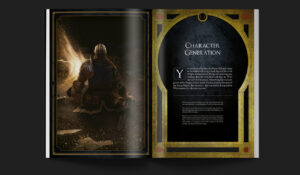 Features & Benefits:
Uses the fifth-edition engine of the world's favorite roleplaying game—it's a familiar system for experienced roleplayers, with a brand new Dark Souls twist.
No additional handbooks needed to play! This is an all-in-one game.
10 bespoke new character classes including incredible new abilities, sinister new character backgrounds, and more. Experience a different class in every campaign!
Brand new Dark Souls magic system complete with devastating spells, pyromancies, and blessings
Game Master's chapter filled with tips and advice on running roleplaying games that capture the spirit of Dark Souls, to onboard new GMs and help experienced GMs run authentic campaigns
Full bestiary teeming with deadly Dark Souls creatures all waiting to end your quest for good, from mushroom people to the Lords of Cinder
Over 500 pages of Dark Souls roleplaying content for infinite hours of play!
Pre-order with your Coqui Account Manager today!