BattleTech: Inner Sphere Support Lance
The Inner Sphere Support Lance is a collection of four plastic miniatures for use in the classic BattleTech tabletop and Alpha Strike games. The box also provides four dry-erase cards, which are intended to directly support Alpha Strike gameplay, and four new Clan Pilot Cards. The four 'Mechs available in the lance pack are the Cyclops, Dragon, Spider, and Thug.
Loke's Immersive GM Screen
Loke's Immersive GM Screen is the must-have accessory to fully immerse your players in your game and your setting. Featuring double-sided artwork, the screen is long and low so you can see and reach the action easily! It is the perfect size to conceal GM notes and dice rolls, while expanding the battle map on the table into the setting with amazing artwork.
One side is a beautiful townscape, and the reverse is a stunning wilderness setting, meaning this screen will be perfect for any fantasy campaign! The screen is also laminated for durability, perfect if you use sticky notes, stickers, etc. for map scenery. It is also wipe-clean and can be written on directly. This beautiful screen will look great on any table!
Untold Encounters of the Random Kind
Untold Encounters of the Random Kind is a hardback book of 1,000+ random encounters. Featuring a detailed guide to using the encounters in 5E games, Untold Encounters of the Random Kind can be used ahead of time to plan roleplaying game sessions or used on the spot to roll up some randomness!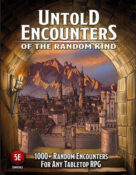 Untold Encounters of the Random Kind
Publisher: Loke Battle Mats
Item Code: LBM025
MSRP: $40
Releases February 23, 2022
The book is split into three sections—Wilderness, Dungeons, and Towns—and each section contains themed encounters and more specific chapters to help you select the most relevant encounters. Of course, you can select the encounters you like the look of ahead of time, and Loke also included random tables so you can roll up anything from a random tavern encounter to an entire dungeon using this book…which also features an entire chapter on traps!
Players: 4–8 • Ages: 13+ • Play time: 10–15 min.
Enter the world of mediums and spirits. Players ask and answer questions from a deck of cards that lead to guesses of what the magical word is, but only one letter at a time. Spirits will determine your outcome on the guess.
Players: 1–4 • Ages: 13+ • Play time: 90–180 min.
Return to the land of Arzium! In Now or Never, you and up to three friends compete to best rebuild your ancestral village and guide the rest of the villagers on their journey home. Although the creatures of the meteorite have lost much of their strength, many of them remain, and you must fight them off to protect traveling villagers. Now or Never is the third game from the Arzium storybook series including Above and Below and Near and Far.
Ah, the good old petting zoo. Where else can you find adorable animals, screaming children, and the most awful smells? Munchkin Petting Zoo lets you add a menagerie of surprisingly friendly fauna to your arsenal! You'll probably want to wash your hands after playing these thirty brand new cards for your Munchkin game…
Pre-order with your Coqui Account Manager today!