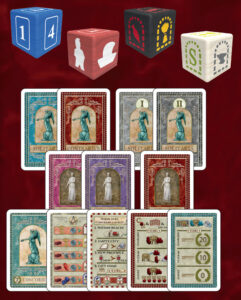 The Concordia Solitaria expansion allows Concordia to be played solo against the adversary, Contrarius. This expansion plays the same as in the base game, but it is played with special cards and dice. Contrarius reacts to what the players do on their turn. He can also become a third opponent in a 2-player game. This expansion requires Concordia or Concordia Venus to play.
Components: 4 dice, 72 cards, rule book.
Pictures Orange expands the much loved, Spiel des Jahres winning game, Pictures. This expansion increases the variability of the game by adding 55 new photo cards as well as two new sets of components: 16 acrylic tiles and frame (with 3 variants), and clothespins and felt pieces (with 2 variants). The inclusion of Pictures Orange permits play with up to 6 players, increasing the limit of 5 in the base game.
Components: 55 photo cards, 1 note pad, 5 clothespins, 2 felt pieces, 16 acrylic tiles, 1 frame, and game rules.
Players: 1–4 • Ages: 14+ • Play time: 60 min.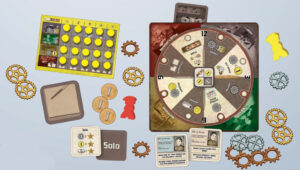 The artistically composed, thematic Eurogame Watch blends theme into the game mechanisms masterfully. You're working at a Soviet watch factory that used to be a World War II–era munitions factory. You've been sent there to produce gears, which you can sell for money, but you can also need those gears to disguise the munitions crates you smuggle out. Plan your actions wisely. Use the monitoring infrastructure in the foreman's office to catch your coworkers misbehaving, and extract bribes from them. But be careful because someone else might be watching you!
Components: 1 game board, 50 metal gears, 4 wooden figures, 54 cards, 4 player boards, 1 die, 81 wood discs, 113 markers, 2 score sheets, and 1 rule book.
Pre-order with your Coqui Account Manager today!