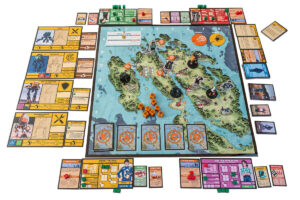 Step into Simon Stålenhag's stunning retro sci-fi world! In Tales from the Loop: The Board Game by Free League Publishing, players play cooperatively to investigate the mysteries originating from the Loop, a huge underground science facility with strange effects on the suburban landscapes around it. Players take the roles of local kids that investigate whatever phenomena that threaten the islands—and hopefully stop them. Each day starts at school, but as soon as the bell rings players can use whatever time they have before dinner and homework to go exploring!
Tales from the Loop: The Board Game includes eight unique scenarios as well as six high-quality miniatures of Simon Stålenhag's robot designs. Along with the core game, two expansions with bonus scenarios and miniatures are released.
Pre-order with your Coqui Account Manager today!