Dice Hospital Emergency Roll
Players: 1–6+ • Ages: 10+ • Play time: 20–30 min.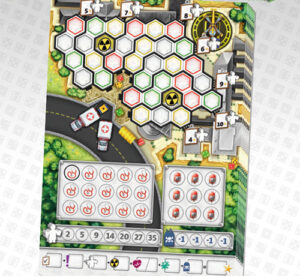 Dice Hospital: ER – Emergency Roll is a standalone "flip, roll, and write" game set in the Dice Hospital universe as an entry into the world of Dice Hospital. The game takes place in the busy accident and emergency section of a hospital and emulates the fast-paced and hectic nature of an A&E ward. It's designed by esteemed designers Matt Dunstan & Brett J. Gilbert (Chocolate Factory, Roll for Adventure, Elysium).
Players: 1–4 • Ages: 14+ • Play time: 90–150 min.
Players: 1–3 • Ages: 10+ • Play time: 30–90 min.
The world has been hit by a virus killing 90% of the population. Most of the survivors have turned into zombies, while the rest are left weak and defenseless. You must rescue as many as you can while gearing up to hold off the ever-increasing number of zombies.
After the Virus is a cooperative deckbuilding game in which ever-increasing numbers of zombies are added to your deck while you work to complete mission goals. Gear up! Save survivors! Mow down hordes of zombies!
Summer is coming to an end, and it's time to prepare for a long and cold winter, full of new dangers…
The Long Cold takes the apocalypse of After the Virus to a whole new level with new characters, special zombies, and droves of new weapons, traps, and equipment. The new campaign lets players save progress between missions, as well as develop their decks over time. Will you specialize in armor and striking weapons? Or will you expand your range of companions and animals?
Steam Up: A Feast of Dim Sum
Players: 2–5 • Ages: 8+ • Play time: 40–60 min.
Deep in the mountains of a mythical land, there was a world-renowned Dim Sum restaurant by the name of Steam Up. Become 1 of the 12 Chinese Zodiac animals with unique abilities and be prepared to compete with other hungry companions at the table. Devour as much Dim Sum as possible by using Fortune cards, managing Food tokens, and rotating the Turntable to leave the table with the most satisfied stomach.
Players: 3–4 • Ages: 10+ • Play time: 10–15 min.
The masterminds are at it again! Recruit the right combination of thieves to outsmart your opponents. To do this, you'll need to get in each Mastermind's head as you offer thieves from your hand to one another. But watch out for Old Bill! He is here to thwart your plans…unless you can use him to your advantage. Bring your best negotiating face to the table. And if negotiation and bluffing aren't your thing, you can always just play a classic game of Old Maid or Memory with the whole family.
Eleven: International Players
If you're needing a little more entertainment, this expansion is for you. Football is an international sport, so now the Transfer Area will feature as many as five decks of Players from different regions of the world.
Eleven: International Cup
It's time to get to the next level. This expansion introduces new Opponent cards, new Opponent Team markers, and the International Cup board. From now, you will not be playing one, but two matches a week, which will surely consume more of your Resources.
Players: 3–8 • Ages: 17+ • Play time: 10–20 min.
In Boo-ty Call, you'll hold a spooky séance with your friends to figure out which smoking-hot ghost is looking for love! Boo-ty Call is a party game with humorous art by the one and only "Extra Fabulous." Use charades, faces, and spectral noises to communicate across the veil and get that sweet ghostly action.
Players: 2–5 • Ages: 14+ • Play time: 5–20 min.
Will you gain riches or die in a dungeon? Let fate decide right now! Each player selects a character and then rolls the special die…once. That's all it takes for a quick adventure with One Roll Quest. You might find treasure. You might find fame. You might die… Play it anywhere! Then make up a lot of lies about what happened along the way!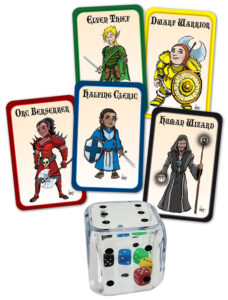 This is a great game to play before the game you play before you start the real game. This edition also includes three new super-quickies:
One Roll Dragon (because they're not all created equal)
One Roll Pizza (a lifestyle guide and not a game)
A Slumbering Dragon (a dice game played with standard six-sided dice)
Limber up your dice hand… It might save your life!
Players: 1 • Ages: 10+ • Play time: 20–40 min.
Resist! is a fast-playing, card-driven solitaire game in which you take on the role of the Spanish Maquis, fighting against the Francoist regime. Over a series of rounds, you undertake increasingly difficult missions, and completing missions earns you the points needed to win. Failing to defeat missions and enemies may cause you to lose. At the end of each round, you must choose whether to end the resistance or risk it and take on another mission.
At the beginning of the game, you assemble a team of twelve Maquis, which are represented by a deck of cards. At the heart of the game is the tension between keeping your Maquis concealed from Franco or revealing them to unlock their full potential. Unfortunately, revealed Maquis are removed from your deck, and you likely won't be able to use them for the rest of the game. While Resist! does have some minor deck-building elements, it is primarily a "deck-destruction" game in which you have to manage your deck, balancing the decision of defeating the immediate threat with trying to move on to the next mission.
Terraforming Mars: Ares Expedition — Foundations
Ares Expedition: Foundations contains additional player boards, cubes, and phase cards so that Ares Expedition can be played with up to six players. This expansion also includes two additional game boards. One is a larger score track. The other adds a fourth terraforming metric: infrastructure. Additionally, there are new project cards that involve the new terraforming metric and a new phase card.
Pre-order with your Coqui Account Manager today!